It's been a year since EmbraerX, the Brazilian airframer's innovation subsidiary, spun off its first electric vertical take-off and landing (eVTOL) project, called Eve.
And as the company celebrates its first birthday, chief executive Andre Stein says it's on track to flying more complex models and launch other endeavours that will help convince the public as well as regulators that urban air mobility (UAM) will soon be a way of life.
"We have flown some scale models, we have flown engineering simulators, we're about to fly a full-size proof-of-concept as well, very likely before the end of the year," Stein tells FlightGlobal on the sidelines of this week's NBAA annual convention in Las Vegas.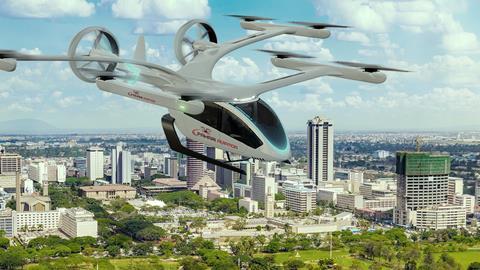 But the proof-of-concept won't much look like the final version of the aircraft, Stein says. There is still work to be done on the design, however it will have all the systems in place that the company needs to test before they go into a prototype.
"We are making a point to put the building blocks in the right order, rather than rushing and flying something that's just for marketing," he adds.
So far, the company holds orders for 735 aircraft from operators all over the world including Halo, Blade and Bristow Group in the USA, Avantto in Brazil, Microflite in Australia, Kenya Airways, and Ascent Flight Global in the Asia-Pacific region.
"These commitments help us to create the right aircraft," Stein says. "We're creating our global footprint to make sure that we are not designing something for a niche market. It's going to be something that works globally."
"And you can expect some more announcements in the future," he adds.
So far, it's disclosed few details about Eve, though renderings show an aircraft with eight lifting propellers and two ducted fans for forward propulsion.
OPERATING CONCEPT
In addition to the hardware, the company is also on track to develop an entire end-to-end urban air mobility concept.
"Beyond the aircraft, we are developing an operations concept with a consortium of partners all over the globe, along with regulatory authorities, that will help us to create this future together," Stein says.
In the coming months, Eve plans to launch a month-long pilot programme in Rio de Janeiro designed to make a pitch to potential customers as well as aviation regulators that such a service is feasible, affordable and safe.
"We are going to start flying with a helicopter partner and a ride sharing company from the city to the international airport to show how this could work," Stein says. "The whole point is to create a real simulation of the actual operation, including the traffic management aspect of it, define how the routing will be, how the communication will be as well as the whole passenger journey."
The price point for the route is not yet set, but Stein says it will be comparable to ground transport – without wasting time sitting in traffic.
"The idea here is not to create an actual profitable operation but to really simulate how the future is going to be, and it's pretty much in line with ride sharing on the ground, up to maybe 50% more," he adds.
EmbraerX spent four years incubating Eve before spinning it off in October 2020, and has said it expects to launch commercial operations with the eVTOL in various regions by 2026. Stein says Brazil's ANAC will likely be the first to certify the craft.

Pilar Wolfsteller, Americas Air Transport Editor, is an FAA-certified flight instructor (CFI), and holds a commercial pilot certificate with instrument rating. She joined FlightGlobal in 2019, and is based in Las Vegas. She covers airlines across the hemisphere and her interests also include future-oriented sustainable aviation technology, advanced air mobility projects and pilot training topics. Pilar began her journalism career at the global news agencies Bloomberg and Reuters, and has reported from more than 50 countries.
View full Profile