Airbus has been conducting in-flight emission measurements using an A321neo powered by wholly-sustainable aviation fuel.
The airframer is collecting data on emissions from the twinjet's CFM International Leap-1A engines, using a Dassault Falcon 20 chase aircraft from the German aerospace laboratory DLR.
Airbus says the Falcon aimed to gather information on non-carbon dioxide emissions and contrail formation from the A321neo, which was burning unblended 100% sustainable fuel.
The tests were part of the VOLCAN alternative-fuel demonstration campaign, in which Airbus is participating with Safran and Dassault as well as the Onera research organisation.
VOLCAN is concentrating on unblended sustainable fuel analysis.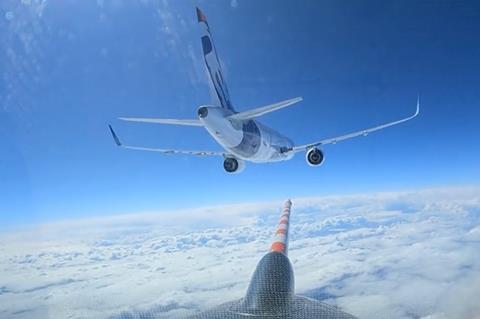 Airbus has already carried out wholly-sustainable fuel tests with A350 and A300 tankers, but the latest round is the first to involve a single-aisle model.
The Falcon, fitted with emissions sensors, closes to within 100m of the A321neo during the measurement flights.
"Analysing the performance of unblended sustainable aviation fuel and its promise in reducing emissions is an important step toward the decarbonisation of the aviation industry," says Airbus.
Airbus used its test aircraft D-AVZO (MSN7877) for the flights which, says DLR, are running from the end of February to the end of March in airspace off the French coast.