Airbus believes it is in complete compliance with World Trade Organization rulings on commercial aircraft subsidies after adjusting contracts for A350 government launch aid.
The measure is the latest development in the long-running transatlantic dispute between the US and European Union administrations over provision of financial support to Boeing and Airbus.
In a ruling last December the WTO had stated that the EU had failed to demonstrate compliance with obligations to withdraw A350 subsidies from Germany and the UK, and that these subsidies continued to be a "genuine and substantial" cause of Airbus's ability to offer certain A350 delivery positions.
The WTO had taken particular note of Airbus's offering early A350-1000 delivery positions to Virgin Atlantic, while the US side had also claimed that it was unfairly disadvantaged in sales campaigns with Emirates, Turkish Airlines, China Southern Airlines, and other operators.
Airbus acknowledged, following the ruling, that it had fallen short in its efforts to align A350 loan agreements with market conditions, but insisted it was committed to complying with WTO recommendations.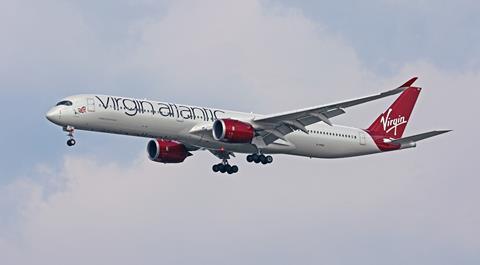 Last year the US government imposed import tariffs on Airbus aircraft, escalating the dispute from background legal wrangling to a threat to aircraft deliveries.
Airbus says it has agreed with the French and Spanish governments to "make amendments" to the A350 repayable launch investment contracts – and argues that there is no remaining justification for the US tariffs.
"We have fully complied with all the WTO requirements," insists chief executive Guillaume Faury. "These additional amendments to the A350 [launch aid contracts] demonstrate that Airbus has left no stone unturned to find a way towards a solution."
Faury says the Airbus decision demonstrates the airframer's support to those suffering the "severe impact" of the US tariff regime, on top of the effects of the air transport crisis.
The dispute has spanned three US presidential administrations, having been initiated by the US government in October 2004, during George W Bush's first term.
Airbus says the US Trade Representative's tariffs are "harming all targeted industry sectors" and that this has spurred the company to "remove the last contentious point" by adjusting interest rates and risk-assessment levels.