Air Canada unveiled its first Airbus A220-300 to reporters and business partners at a 15 January event, coming one day before it places the Quebec-made twin-jet into revenue service.
Executives at the unveiling, held in an Air Canada hangar, described the A220 introduction as a victory for Canadian industry, noting Montreal-based Air Canada is the first Canadian carrier to acquire the Quebec-built jet.
They also insisted the A220 will help transform Air Canada's network by driving down costs and enabling it to launch previously untenable routes.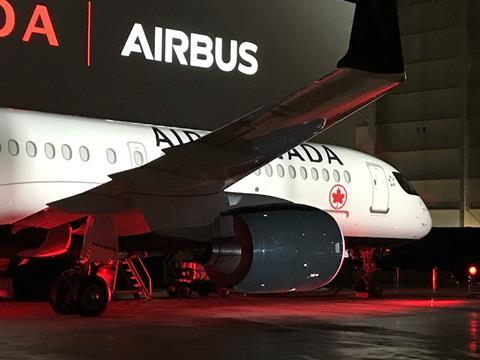 "The arrival of a new aircraft is always a major event for an airline… The A220, especially so," says Air Canada chief executive Calin Rovinescu.
"The capacity and range of the A220 will open new markets. It will allow us to continue to expand our… already extensive North American network and support our global strategy."
Air Canada will launch its first revenue A220 flight on 16 January between Montreal and Calgary. It will soon add A220 flights on existing routes, such as from Montreal and Toronto to places like Ottawa, Winnipeg, Edmonton and New York-LaGuardia, Air Canada says.
Air Canada also plans to use A220s to launch two new routes starting on 4 May: Montreal-Seattle and Toronto-San Jose, California.
Air Canada's A220s have 137 seats, including 12 business-class seats and 125 economy seats. The airline has orders for 45 A220-300s, with deliveries running through 2022, according to Cirium fleets data.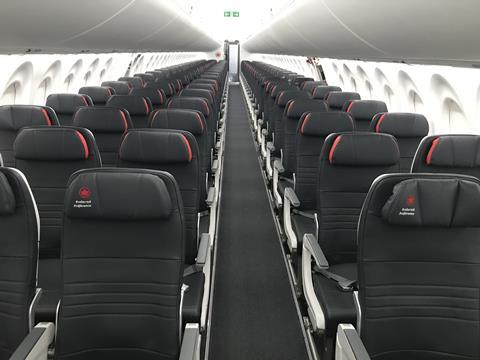 It will use them partly to replace Embraer 190s scheduled for divestiture by year-end. Air Canada currently has 14 E190s in its fleet, Cirium data shows.
Powered by Pratt & Whitney PW1500G geared turbofans, A220-300s will burn 20% less fuel per seat than E190s, says Air Canada vice-president of network planning Mark Galardo.
"This aircraft fits Air Canada's needs almost perfectly," he says.
The A220-300's 3,350nm (6,204km) range theoretically makes transatlantic passenger flights possible. But, due to operational limitations, Air Canada has no intention to seek the extended twin-engined operation approvals needed for such flights, Gelardo says.
Weight restrictions on transatlantic and transpacific flights would significantly limit passenger counts – perhaps to as few as 40 passengers – effectively making transoceanic A220 flights a "luxury niche" product, he says.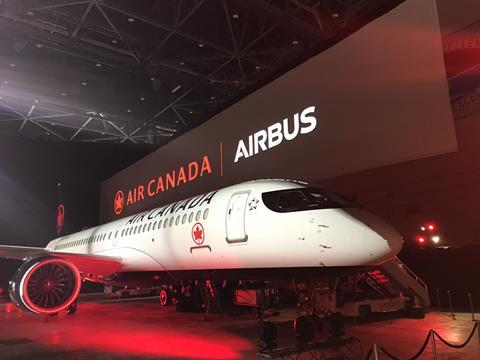 During the event, Rovinescu called the A220 "a product of innovation, of risk, of disrupting the market, of staying power" – a nod to the many struggles, financial and legal, Bombardier faced when developing the aircraft. "The aircraft programme almost did not make it."
Bombardier laboured for roughly a decade to develop the aircraft, which it called CSeries. The project consumed much of the company's resources and billions of dollars in government funding. Bombardier also successfully fought off a legal challenge from Boeing that threatened to impose tariffs on CSeries imported to the USA.
Additionally, Bombardier struggled to sell CSeries to major international carriers.
But in 2016 Air Canada provided CSeries with a major confidence boost by agreeing to buy at least 45 of the aircraft. Several months later, Delta Air Lines ordered 75 CSeries, and has since boosted its total commitments to 95 aircraft.
Still, Bombardier struggled under CSeries' weight, eventually agreeing to dump majority ownership of the programme onto Airbus, free of charge.
Since then, Airbus has landed major A220 sales with Air France-KLM and JetBlue Airways.