Although the field of start-ups promising to revolutionise urban transportation with electric air taxis is increasingly crowded, it could start thinning by the end of next year.
That is according to Sergio Cecutta of SMG Consulting, who tells FlightGlobal during the recent Air Taxi World Congress in San Francisco that some air-taxi start-ups could exhaust their cash reserves within the next 12-14 months.
By then, it will become "extremely clear who's going to make it and who's not going to make it when it comes to certification", he says.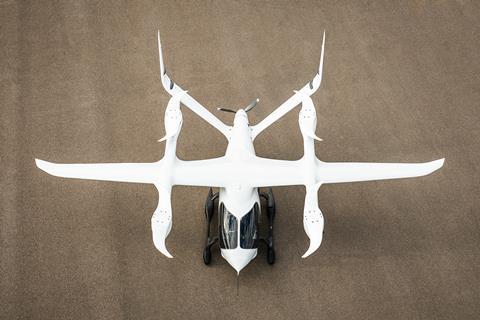 SMG Consulting's AAM Reality Index ranks electric vertical take-off and landing (eVTOL) aircraft developers based on "the likelihood of an OEM certifying their aircraft, entering service and producing it in thousand of units per year". The index ranks 24 of the top developers and tracks another 17 worldwide; it is certain that some, if not many, will fail to achieve certifications of their designs or to fly meaningful numbers of passengers.
For now, Cecutta considers it unlikely that frontrunners in the USA such as Joby Aviation, Beta Technologies, Archer Aviation and Wisk Aero – along with China's EHang and Germany's Volocopter – will collapse or consolidate. Those six start-ups appear to be in relatively stable positions with runways for launching operations at scale, according to SMG's analysis.
The California-based consultancy firm ranks Joby, Beta and Volocopter as the three companies most likely to clear the hurdles ahead, from the possibility of public pushback against eVTOLs to the astronomical costs of developing them. Archer's chief executive Adam Goldstein has estimated that getting one aircraft design through FAA certification could run as high as $1 billion.
Developers also face lingering uncertainty regarding certification, a situation Cecutta likens to "writing the rules of the game while you're playing the game". For example, the FAA recently proposed a requirement that air taxi pilots must be trained by a second pilot in the cockpit. Because most eVTOLs under development seat only a single pilot, such a requirement could force companies to develop separate models for training – a costly and time-consuming prospect.
Delays could prove problematic, as even companies with the greatest leads have only so much cash to burn. That is the opinion of McKinsey & Company's Robin Riedel, who leads the firm's Center for Future Mobility. He told FlightGlobal on 3 October that "Archer and Joby probably have the biggest cushion, but all of them are going to need more money".
"Our analysis would suggest that… companies still have good buffers through the rest of this year and early next year," he says. "But if you're not seeing additional funding flow into many of these players, you'll see some of them fail."
CRUNCH TIME
Leading eVTOL developers are entering an ambitious phase of rolling out their aircraft on the world stage, possibly starting with China's EHang.
In August, the company completed flight-testing of its two-passenger, fully autonomous EH216-S aircraft. Working with China's government, EHang appears poised to become the first eVTOL developer to clear certification and launch commercial operations.
"We have been applying for type certification from the [Civil Aviation Authority of China] for more than 30 months, and we're expecting to get the final approval very soon," Conor Chia-hung Yang, EHang's chief financial officer, told Air Taxi World Congress attendees on 4 October.
Yang describes a near-future in which "hundreds or thousands" of EHang's vehicles will fly pre-determined point-to-point routes throughout China, all controlled by a centralised operating system. The envisioned operations are "more like shuttle services" rather than air taxis, designed to complement the country's system of high-speed railways, he says.
Not far behind is Germany's Volocopter. "We are focused on the VoloCity for type certification with EASA, and we're on track for the second half of next year," Rohit Wariyar, the company's senior business manager, told the audience during the same discussion.
Volocopter is racing to achieve EASA certification prior to the 2024 Paris Summer Olympics, which the company views as a potential showcase for its one-pilot, one-passenger VoloCity rotorcraft.
"We believe that with the world's eyes on Paris, it [will be] a great time for us to take that real step toward public acceptance of eVTOLs in the air," he says. "We will have multiple aircraft which will allow them to see and hear and experience what each one can do."
Volocopter is also targeting certification in Japan with an eye on operating VoloCity at the 2025 Expo Osaka Kansai event.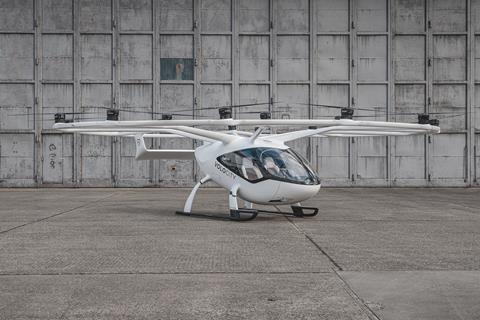 Leading developers in the USA, meanwhile, have recently turned attention to scaling manufacturing capabilities.
Earlier this month, Vermont-based Beta opened a facility at Burlington International airport where it will manufacture and assemble its Alia aircraft. On a 16ha (40 acre) site with space for "significant expansion", the 17,512sq m (188,500sq ft) plant will eventually produce up to 300 aircraft annually.
The company is pushing for type certification of Alia in 2024 and hopes to launch operations with its conventional take-off and landing (CTOL) variant the next year. It will then seek approval of its eVTOL variant.
On the opposite coast of the USA, California Bay Area-based Archer announced a $65 million financing deal to support construction of a 32,516sq m facility in Georgia, where the start-up hopes eventually to produce up to 650 aircraft annually.
Additionally, Archer plans to launch test flights with six "fully conforming" Midnight aircraft early next year, ahead of the company's planned commercial launch in 2025, chief safety officer Billy Nolen told FlightGlobal on 27 September.
"One of those will go to the US Air Force (USAF) and the other five will be doing our for-credit and flight-testing programme – that is what we will spend the bulk of 2024 doing," he says.
Archer's aircraft has yet to get airborne but the company maintains that it is on track to achieve certification next year.
Fellow Bay Area eVTOL developer Joby – believed to lead the race to certificate an air taxi with the FAA – revealed plans last month to build a manufacturing facility in Dayton, Ohio to produce up to 500 aircraft per year.
Joby recently started flying its pre-production prototype with pilots on board at its California production facility, while autonomous aviation developer Wisk launched a test-flight programme with its fifth-generation autonomous aircraft in Los Angeles.
'SMOOTH SAILING' SO FAR
Which companies will realise their sky-high ambitions remains to be seen, but McKinsey's Riedel is optimistic some will deliver.
"I'm very bullish on the industry; I'm very bearish on every individual player," he says. "Advanced mobility is going to happen and it's going to be something exciting. However, every single player has hair on them. For one reason or another, I worry about each one."
Illustrating the incredible costs of developing an entirely new class of aircraft, Joby lost $399 million in the first half of 2023. However, as of 30 June, it still held nearly $1.2 billion in cash and short-term investments – about as much as it had last year at the same time.
Archer lost about $294 million during the same period, which it attributes to investing in advanced technology, aircraft parts and material. At the end of June, the California company held about $408 million of cash and equivalents.
Since then, in August, San Jose-based Archer said it padded its cash reserves with another $215 million in investments, including from Boeing, Stellantis and United Airlines, and it settled its lawsuit over intellectual property rights with rival air taxi developer Wisk, a wholly owned subsidiary of Boeing. As part of the deal, Archer and Wisk agreed to work together on developing autonomous systems for future variants or Archer's Midnight aircraft.
But Archer still faces another court challenge. In September, an investor filed a class-action lawsuit against the air taxi developer, claiming it and top executives mislead investors about business prospects and certification progress. Archer has denied the allegations.
Both SMG's Cecutta and McKinsey's Riedel agree that major consolidations are unlikely in the burgeoning eVTOL sector, as developers making similar-but-competing aircraft would not benefit from tie-ups.
"A lot of these companies are developing perfect substitutes," Cecutta says. "The differentiation is not as big as it could be… Why would you want to bring someone else's product in house when you already something that does exactly the same thing?"
"If a lot of companies were to fail, I'd see it as more of an IP [intellectual property] and talent grab," he adds.
Riedel agrees that "most of these players have a pretty strong view on the aircraft configuration they build" and therefore would not be keen on joining forces with competitors.
"Buying another player doesn't get you much," he says. "It's not like they have manufacturing capabilities yet. What's the big asset all these players have? Well, it's their talent, which can leave – and that's already happening."
Despite major challenges, the world's leading eVTOL developers are largely tracking their targets, and none appear on the verge of collapse, Riedel says: "We would have thought there would be much more faltering to this point – companies missing deadlines and more curve balls from a regulatory perspective."
"So far, it's actually still fairly smooth sailing," he adds, "and that make me less convinced that we'll see a lot of exits in 2024."