Airbus Unmanned Traffic Management (UTM) has revealed the latest version of its proprietary simulation tool, USim, which could be critical for understanding the future operations of automated aircraft "without the real-world consequences of system failures".
"To better understand tomorrow's skies, Airbus UTM is developing a proprietary simulation environment called USim to explore how future airspace will operate," Acubed, the Silicon Valley-based innovation centre for Airbus, said on 13 December. "USim not only allows researchers to explore the unknown, but recent advances have made the technology a useful and cost-effective tool for the aerospace industry to understand and develop a safe and sustainable [UTM] framework."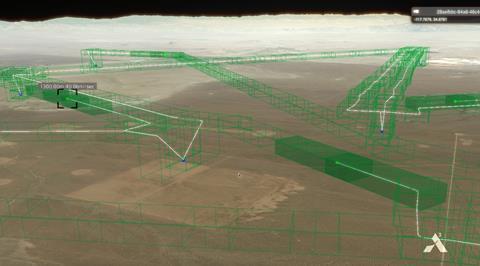 If the future envisioned by air taxi developers and drone-based delivery start-ups becomes reality, the skies over urban and suburban areas will be full of hundreds or thousands of automated aircraft – posing "a variety of challenges to tomorrow's air traffic management systems," Acubed says.
USim allows researchers to explore fundamental aspects of flight operations, such as flight planning and navigation error, and also create a "big-picture view of future airspace", the company says. The technology can quickly simulate thousands of flight hours, creating statistically reliable data from which "meaningful conclusions" can be drawn.
Advances in machine-learning has allowed for more realistic stress tests of air traffic management systems, the company says, allowing researchers to run through failure scenarios that would be otherwise difficult to study. USim also encourages a collaborative approach to air traffic management by using a software-as-a-service approach, allowing users to test the interoperability of their systems with other users.
"The presence of these varied entities, each with its own priorities, adds an additional layer of complexity to understanding tomorrow's UTM challenges," Acubed says. "Simulation provides an indispensable tool to explore and assess this complexity."
More than 100 stakeholders are involved in the programme, including NASA, the European Union Aviation Safety Agency and the US Federal Aviation Administration. NASA, for example, is using USim to develop concepts of operation for advanced air mobility (AAM) in the US.
"This is an important step in informing AAM procedures and encouraging public confidence in emerging aviation markets," Acubed says.