Airbus has delivered a strong indication that the airframer will seek to replace its A320neo family with a "relatively conventional" design in the mid-2030s, in parallel with the possible introduction of a hydrogen-powered aircraft in the same timeframe.
Although stressing that no programme has been launched, Christian Scherer told the Paris Air Forum conference on 16 June that work was under way to mature the technologies needed for both future aircraft.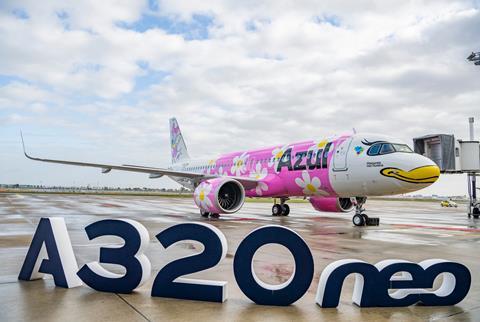 One is focused on a "relatively conventional set of technology bricks" to deliver a fuel-burn improvement of around 25% over current narrowbody aircraft, while the ZEROe effort is focused on hydrogen propulsion – including both combustion and fuel cell power.
"The two development streams are happening in parallel," he says. "There is no airplane programme, but a set of converging research bricks building towards something in that [mid-2030s] timeframe."
Speaking at the same event, Airbus chief executive Guillaume Faury said the manufacturer wants an aircraft to arrive in the 2035-40 period which would deliver a fuel-burn reduction of 25-30% and be capable of running on 100% sustainable aviation fuel.
He describes that aircraft as a "pivotal generation" as it will bridge between more conventional aircraft and widespread adoption of hydrogen-powered designs in the decades to come. "It will be the transition to hydrogen," he says.
Briefing journalists later, Sabine Klauke, Airbus chief technical officer, said the airframer continues to prepare a suite of technologies to improve performance "in order to prepare for any next aircraft even if there is no progamme at the moment".
"We will probably see that coming into reality in the second part of next decade."
Airbus is focused on its own research programmes, such as Wing of Tomorrow and the eXtra Performance Wing, but is also working with propulsion providers to understand the "different engine concepts" being proposed.
"This is really front and centre to know which engine concept will be the most promising one for the future," she says.
CFM International is developing its RISE open-fan demonstrator, supporting a new single-aisle engine in the mid-2030s, while Pratt & Whitney is working on a next-generation version of its geared turbofan engine. Rolls-Royce is also considering a return to the narrowbody market using a scaled-down version of its UltraFan geared architecture.
Airbus has previously announced that it will fly the RISE demonstrator aboard its A380 testbed.

Dominic Perry is deputy editor of Flight International but also contributes extensively to flightglobal.com. Although specialising in the coverage of the helicopter industry, he has written on most topics in aerospace – be they commercial, defence or business aviation. In addition, there has been an increasing focus on the decarbonisation of the industry and zero-emission flight initiatives.
View full Profile