Airbus is pressing ahead with plans to bring its fello'fly vortex recovery system (VRS) into commercial service later this decade and will further refine the concept – and its integration into airline operations – with another round of flight tests conducted through a European research project.
Carriers Air France and French Bee will supply A350 widebodies for the effort – known as Geese – which is being part funded by the EU's SESAR air traffic management research body.
In addition to the test flights, the carriers will also analyse the integration of the aircraft pairing process in their operations centres.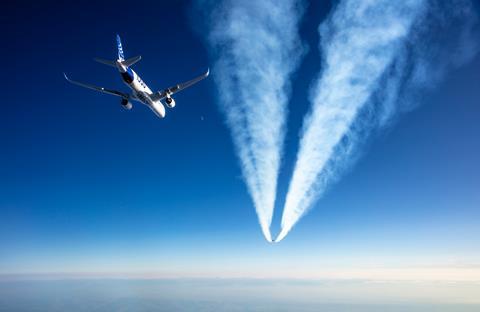 Geese also involves Eurocontrol and air navigation service providers from Bulgaria (BULATSA), France (DNSA), Ireland (IAA), Lithuania (ON) and the UK (NATS), alongside ATM technology providers Indra and Frequentis.
Fello'fly sees a pair of aircraft flying in formation, one around 1.56nm (3km) behind the other, allowing the trailing jet to benefit from the lift generated by the preceding aircraft's vortices, reducing the thrust required from its engines.
A flight trial carried out in November 2021 using a pair of Airbus-owned A350s on a route between Toulouse and Montreal in Canada validated the concept, which the airframer says could generate fuel savings of around 5%.
But in order to achieve an end-decade service-entry goal, the airframer must thoroughly validate the concept of operations for fello'fly, detailing how aircraft will be paired, their optimum rendezvous point, their routing and other considerations, says project leader Jonathan Beck.
"We have to progress on the operation and seek alignment of the industry as a whole," he says.
Under the three-year Geese initiative – its name is a nod to the wildfowl formations that inspired fello'fly – Airbus and its partners will initially build what Beck calls a "common simulation platform" allowing early testing of operational concepts.
"By plugging into that simulator more and more data – and more and more live data – at some point we will be able to mimic the operation until we are confident enough that we can do some dry runs," he says.
This will see Air France's control centre supplied with updated flight plans for a rendezvous as though one of its jets had been paired with a suitable partner.
"It will be a very step-by-step approach, gaining confidence at each step," says Beck.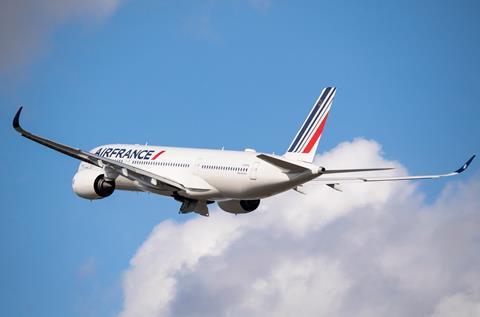 He hopes that flight trials will be able to begin within two to three years of the project's official mid-2023 start date. Although Air France and French Bee are the only disclosed airline participants so far, Beck is hopeful that others will sign up before the start of flights to ensure a wider geographic spread.
However, there are plenty of practical considerations to be hammered out before Geese reaches that point.
For example, where is the ideal point during the cruise phase for the two aircraft to join? "We want it to be as soon as possible to save as much energy as possible, but we have to account for the delays that will happen for operational reasons," he says. In other words, there will be a natural lag caused by all the steps – the pairing, transmission of the changed flight-plan to crews, its validation by ATC – required before the jets link up.
"When we did the transatlantic flight [in November 2021] both aircraft departed from Toulouse with little separation between them so achieving the rendezvous was relatively easy; now we want to see how fello'fly is deployable at a large scale," adds Beck.
There is also the thorny question of how to decide which aircraft is the leader and which is the follower. While a heavier aircraft would arguably benefit the most from being in the trail, it also generates bigger vortices, creating more lift for its partner, and so would be better positioned in front.
While the decision in some cases may come down to a commercial agreement between carriers, Beck says other factors may also come into play, such as whether both crews are trained to fly in either position.
Crucially, Boeing has been recruited to the project to ensure "we align the concept of operations across OEMs," says Beck.
"Part of the discussion we want to have is around the interoperability of different aircraft types for formation flying."
A suitable fello'fly partner should have a similar cruising speed and altitude, says Beck, with the basic rule that one aircraft works well with another of the same type. But some "cross-combinations" also work, he says, such as the A350 and A380, and sees "some potential" for co-ordination between the former and the Boeing 787.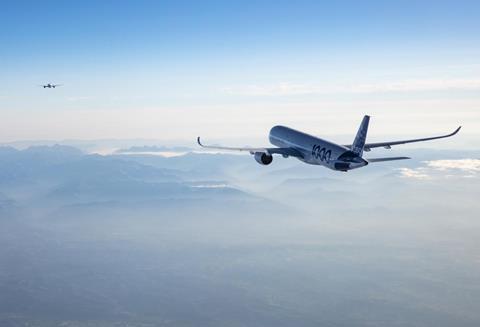 Launch of the system will be with the A350, because "it's our most recent aircraft with the best connectivity and best avionics system architecture," but in the longer term there is "no reason" it could not be extended to the A330neo or even A321XLR.
Theoretically, the benefits of fello'fly could extend to any number of aircraft in a suitable formation but in practice this will be confined initially to just a pair "because operationally it is already very complex," says Beck.
In addition to the fuel-saving – and therefore carbon dioxide (CO2) emissions reduction – benefits of the VRS, it could also have a positive impact on contrail formation, says Beck, which will be assessed by Germany's DLR aerospace research institute.
Outside of the Geese project, Airbus is evaluating what changes, if any, will be required to the aircraft themselves, along with certification assessment, to enable a commercial roll-out of fello'fly.
"It will take a few more years to assess whether it fits with the A350 system with as little modification as possible," he says. Airbus will also work with European, and later US, regulators on the certification aspects of the project.
Beck is hopeful that changes can be confined to a software update rather than any retrofit programme.
As tested, the flight-control and auto-thrust systems on the trailing aircraft maintain its position laterally and vertically relative to the vortex and between the jet in front. "We are able to maintain a globally constant separation between the two aircraft," he says.
Initially developed by the airframer's UpNext innovation arm, responsibility for fello'fly has since transferred to Airbus's commercial aircraft unit.

Dominic Perry is deputy editor of Flight International but also contributes extensively to flightglobal.com. Although specialising in the coverage of the helicopter industry, he has written on most topics in aerospace – be they commercial, defence or business aviation. In addition, there has been an increasing focus on the decarbonisation of the industry and zero-emission flight initiatives.
View full Profile