Hong Kong's government is considering shortening the mandatory on-arrival quarantine requirement from 21 days to seven days for those fully vaccinated, although the benefit to the city's struggling airlines may be limited.
"While the efforts of the Hong Kong government to lower the mandatory on-arrival quarantine period for fully vaccinated travelers from 21 days to seven days will be welcomed by many airlines and travellers, there would not be a drastic increase in demand for air travel even with the shortened period," says Eric Tamang, a Hong Kong-based valuations analyst at Ascend by Cirium.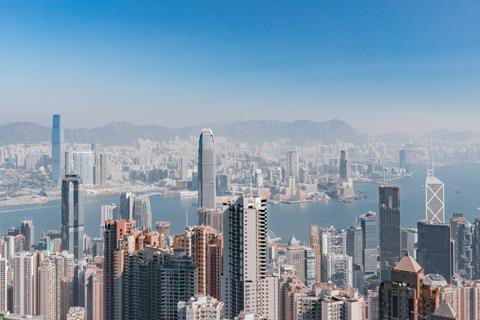 "Quarantine adds extra cost and time for travellers, hindering them from travelling to and from another country."
Government adviser Ivan Hung Fan-ngai has proposed that travellers fully vaccinated against Covid-19 could, in addition to having their quarantine reduced to seven days when they arrive in Hong Kong, be allowed to serve their quarantine at home rather than in a hotel, according to a 5 May article in local newspaper The Standard.
Currently, travellers arriving in Hong Kong must serve quarantine in hotels at their own expense for between 14 and 21 days. In addition, non-Hong Kong residents who have visited places other than mainland China, Macau, Taiwan, Australia, New Zealand or Singapore within 14 days of arrival will be denied entry to the city, according to a 12 April notice on Hong Kong International airport's website.
Even if the government decides to implement a reduced quarantine for vaccinated travellers, the number of fully vaccinated people in Hong Kong is low. Only 7.6% of Hong Kong's population is fully vaccinated against Covid-19, according to government data published by The South China Morning Post. Vaccine hesitancy, rather than lack of supply, is one of the main reasons for the low vaccination rate.
"Given the relatively low uptake of vaccination in Hong Kong and unstable daily Covid-19 cases abroad, the general population would still be reluctant to travel due to uncertainty and quarantine measures abroad, which can affect [airline] load factors and hinder airline revenues," Ascend by Cirium's Tamang notes.
Local airlines Cathay Pacific, HK Express and Hong Kong Airlines were not immediately available for comment.
Cathay Pacific has posted a 96% year-on-year decline in group traffic for March. It carried a total of 18,539 passengers, a 94% decline.
Dennis Lau, a senior valuations analyst at Ascend by Cirium in Hong Kong, adds that the reduced quarantine would mainly be attractive to travellers like Hong Kong students returning from study overseas, or those visiting family, who plan to have a longer stay than the typical tourist or businessperson.
"However, business travel and leisure travel are unlikely to see any notable increase, even with the shorter quarantine," he says.
One glimmer of hope for on-arrival-quarantine-free travel to Hong Kong is now flickering. The long-delayed Air Travel Bubble (ATB) between the city and Singapore is set to launch on 26 May, but a Singapore government official has said it is assessing any potential changes given a recent outbreak of Covid-19 in Singapore.
The ATB has a strict suspension mechanism whereby flights must be paused for two weeks if the weekly average number of unlinked Covid-19 cases in either city rises above a certain level.