Swedish zero-emission aircraft developer Heart Aerospace is to collaborate with the government of Aland – an autonomous region of Finland in the Baltic Sea – to explore the use of the hybrid-electric ES-30 to decarbonise air transport links to the islands.
Covered by a memorandum of understanding, the agreement will see Heart work with the local government, airport operators and other infrastructure providers to establish an operating ecosystem for the ES-30.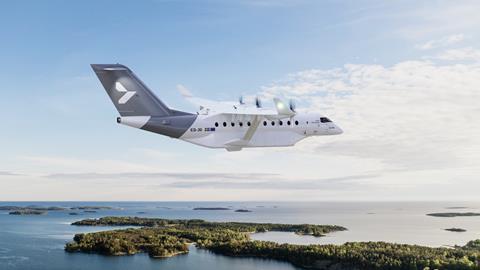 Heart sees flights between Aland's capital city Mariehamn and locations on the Finnish and Swedish mainland as a perfect early use case for the 30-seat ES-30, which is scheduled to enter service from 2028.
"This initiative is really all about bringing sustainable transportation to the islands," says Simon Newitt, Heart's chief commercial officer.
"The government there has a very clear vision on where they want to be on sustainability… and one of the big focuses for the future is transport links."
Governmental buy-in or sponsorship is key, he argues, as "this is where early adoption will take place".
Mariehamn is located around 70nm (125km) from Stockholm to the west and Turku, Finland's third largest city, to the east, enabling the hybrid-electric ES-30 to operate those routes powered by its batteries alone.
At around 160nm, Finnish cities Helsinki and Tampere are beyond full-electric range, but still well within the ES-30's 215nm range when operated in hybrid mode, says Newitt.
Flights from Mariehamn to Stockholm and Turku are currently operated by Amapola using Fokker F50 turboprops while those to Helsinki are flown by Finnair using ATR 72-500s.
Heart calculates that, based on six weekly round trips, using the ES-30 on services to Stockholm instead of the F50 would save around 1,000t of CO2 each year.
All the routes currently flown are covered by public service obligation contracts, potentially allowing Aland to mandate operators to use low-emission aircraft in future.
"But we have time for that. The idea of this announcement is to signal the intent to bring zero-operational emissions flying to the islands," he says.
Heart will work with the Aland government and airport operators both there and and in Sweden and Finland – Swedavia is already a member of its advisory board – to better understand the infrastructure and energy requirements needed for the ES-30's operation.
"We believe we can develop what we hope is a showcase to the rest of the world on how we can do this successfully," says Newitt.
Having launched the ES-30 in September, in the process abandoning development of the 19-seat ES-19, Heart continues its efforts to convert customers holding letters of intent (LoI) for the smaller aircraft to its larger sibling.
Newitt says the process is "progressing" but that it is "a long play", adding: "We are working at the pace of the market but just because we are not announcing multiple LoIs it doesn't signal that somehow there is not a lot of movement and good discussion going on."
Included on the list of airlines yet to convert is Finnair, which in 2021 unveiled a tentative commitment for 20 ES-19s.
Although the carrier has been preoccupied with other issues, Newitt argues that it is also "taking its time to fully understand the business proposition" of the move from 19 to 30 seats.
"We have a great dialogue with Finnair and let's see what progresses in the future."
Heart at the beginning of March held the first meetings of its customer advisory board. "What was very, very encouraging for us was the attendee level – we had full attendance and full commitment," he adds.
"The takeaway for me is that we re on track and that the market is supportive."

Dominic Perry is deputy editor of Flight International but also contributes extensively to flightglobal.com. Although specialising in the coverage of the helicopter industry, he has written on most topics in aerospace – be they commercial, defence or business aviation. In addition, there has been an increasing focus on the decarbonisation of the industry and zero-emission flight initiatives.
View full Profile