US pilot union Air Line Pilots Association, International (ALPA) is calling on the industry to revisit numerous labour, safety, subsidy and collective bargaining issues that for the past year have taken a back seat to the coronavirus pandemic.
In a white paper called "Battling the Pandemic, Rebuilding our Economy and Connecting the World", published on 24 March, the organization sets forth a series of policy priorities which it says will be integral to rebuilding the air transport industry following the global health crisis.
"The aviation sector has been essential in battling the pandemic and will be critical in restoring our economy," says ALPA president Joe DePete. "As we build back, we must work toward a stronger and more sustainable airline industry."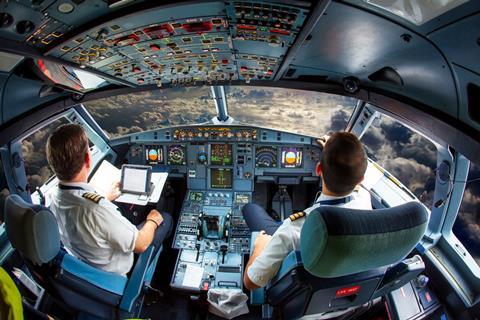 The white paper includes recommendations on protecting cockpit crew from coronavirus risks, violent passengers and terrorists, as well as hazardous materials which they may be transporting.
It also outlines calls for specific rules on integrating remote piloted aircraft systems (RPAS) or unmanned aerial vehicles (UAVs) into the national airspace system safely, as the small craft rapidly rise in popularity among hobbyists and professionals in real estate and surveying work.
"The FAA must ensure that RPAS are carefully regulated for both commercial and recreational use to ensure that they are safely integrated into the NAS. The administration must work closely with pilots operating in the NAS to ensure that expanded RPA use does not pose a safety risk to the process of integrating RPAS into the nation's airspace must be our aviation system," the paper reads.
One of ALPA's most controversial policy points is the demand that cargo pilots be permitted the same duty-time and minimum rest requirements as their passenger-carrying peers.
The so-called "cargo carveout" – which allows cargo operators like UPS and FedEx to set different rest rules for their cockpit crews - "threatens the safety of air transportation".
Therefore, ALPA says, "DOT should immediately ensure through regulatory action that the flight, duty, and rest requirements apply to all-cargo operations in the same manner as they do to passenger operations."
ALPA also calls on the US to take a stand on improving pilot training in other countries in the wake of two deadly crashes of Boeing 737 Max aircraft in Indonesia and Ethiopia, in 2018 and 2019, respectively. Pilot error may have played a role in both of those accidents, which killed 346 people and grounded the type for almost two years.
"The U.S. needs to take a strong leadership role at ICAO and advocate aviation standards that will improve global aviation safety," ALPA writes. "The administration must direct and support the FAA to advocate at ICAO for new minimum pilot training and qualification standards that are at least equivalent to and provide the same level of safety as the FAA regulations."
Another provocative passage is critical of "market-distortive subsidies" that some governments in the Persian Gulf region and China are alleged to provide to their airlines. These are harmful to US carriers, and "inconsistent" with international pacts such as Open Skies agreements.
"The DOT, State Department, and Commerce Department should continue to examine the Gulf carriers' subsidies and differentiate short-term, COVID-related aid from subsidies that enable these carriers to grab market share The US government must continue to insist on arm's length relationships among Gulf governments and their airlines, transparency in reporting, and a weaning away from subsidies."
"The U.S. government should be mindful of Chinese carriers' ownership and subsidies in the face of renewed calls for increased Chinese carrier service to the United States; needless to say, an Open Skies agreement is inconceivable," ALPA says.