US cargo airline Ameriflight intends to equip its aircraft with autonomous systems produced by aerospace technology company Merlin Labs, with the goal of cutting costs and addressing a pilot shortage.
The move marks the latest effort in the USA to bring autonomous technology to cargo aircraft, with other such projects being led by companies including Kaman, Reliable Robotics, XTI Aircraft and Xwing.
Ameriflight and Merlin initially intend to modify a Cessna 208B Grand Caravan with "autonomous and semi-autonomous" systems, but intend later to automate other aircraft in Ameriflight's fleet, the companies say on 10 December.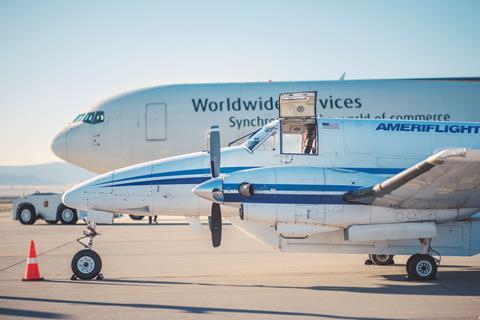 They aim to begin "limited flight trials" in 2023.
Ameriflight and Merlin have already started "teaming and development" work and intend to begin "data collection and route-integration trials" early next year, they say.
Ameriflight, based at Dallas Fort Worth International airport, is a major US operator of small cargo aircraft. It and subsidiary Wiggins Airways operate more than 100 aircraft and carry cargo for express package delivery companies UPS, FedEx and DHL.
"Ameriflight hopes to future-proof its aircraft with early implementation of autonomous capabilities, ensuring the company will be nearly ready when that form of flying is industry approved," it says.
The airline chose Merlin's system because it is "furthest along", says Ameriflight chief executive Paul Chase.
Boston-based Merlin revealed its existence earlier this year, announcing it is developing "autonomous flight technology for fixed-wing aircraft" and revealing a partnership to install its system in 55 Beechcraft King Airs operated by Virginia's Dynamic Aviation.
At the time, Merlin said it landed $25 million in funding from Google investment affiliate GV and another firm, First Round Capital. Merlin has a "dedicated flight facility" in California at the Mojave Air & Space Port, it said.
"The Merlin system allows for fully autonomous flight from take-off to touchdown", and embedded "cognitive capabilities" allow the system to communicate with air traffic controllers, Merlin says.
The company has "integrated its platform" into four aircraft types and has "flown hundreds of take-off-to-touchdown missions", it adds.
In September, Merlin said the Civil Aviation Authority of New Zealand approved a "certification basis" for its autonomous technology that "incorporates an onboard safety pilot who will continue to act as legal pilot in command".
Ameriflight's fleet of more than 100 aircraft includes Beechcraft 99s and 1900s, Embraer EMB-120s and Fairchild SA227s. Its New Hampshire subsidiary Wiggins flies 44 aircraft – 27 Caravans, 10 Beechcraft 99s and seven EMB-110s, a representative says.
Ameriflight describes its autonomy push partly as responding to the "industry's pilot shortage", citing difficulty "finding skilled pilots". Merlin's automation could enable Ameriflight to put "the equivalent of much-more experience into the cockpit," says CEO Chase.
Ameriflight is also banking on long-term cost savings.
"Merlin is designing a solution to allow our existing fleet to become autonomous rather than requiring us to upgrade our fleet, which would come at a very high capital cost," Chase adds. "Merlin is making it possible to extend fleet life at a relatively affordable cost."
Several other US companies have been working to equip cargo aircraft with increasing degrees of autonomy.
California-based start-up Xwing said in April that it completed an "autonomous gate-to-gate" flight of a cargo-configured Caravan. Another start-up, Reliable Robotics, aims to certificate a pilotless Caravan.
Others are developing clean-sheet autonomous cargo-carrying aircraft. Those include Kaman, which is developing an autonomous quad-copter called Kargo, and XTI Aircraft, which is building an autonomous aircraft called TriFan 600.