The eastern end of Singapore's Changi Airport is a picture of frenzied activity — cranes, excavators and trucks scattered across the sprawling landscape.
Their purpose: to build the airport's fifth passenger terminal, which is due to go online in 2030 with the goal of handling 50 million passengers per annum. A third runway is also in the works.
In recent days, Changi East — as the project is known — tells a different story: thanks to the measures imposed to curb the spread of the coronavirus, most construction work has been halted. Changi Exhibition Centre, site of the Singapore Airshow, has been converted into a vast recovery centre for coronavirus victims.
Changi Airport has also closed down Terminal 2, which was due for a multi-year upgrading project, in light of dwindling passenger traffic.
Airports in and around the region, like Changi, have been bearing the brunt of the coronavirus outbreak. Falling passenger demand, coupled with a bewildering list of travel restrictions, have seen networks dwindle to bare skeletons.
In turn, airports, especially hub airports once teeming with travellers, have become ghost towns. Images at Changi Airport, for example, show check-in counters with nary a traveller in sight. It is a similar story at Hong Kong international airport, with stands filled with parked aircraft.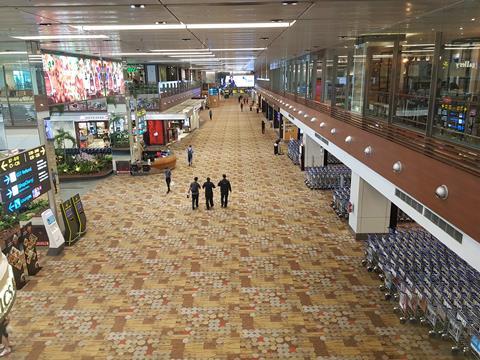 Other airports worldwide have also moved to close terminals, scale back operations and defer non-essential spending to battle the crisis.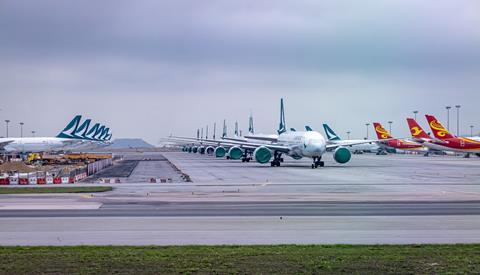 Trade body Airports Council International (ACI) Asia-Pacific notes that 18 airports in major aviation markets in Asia-Pacific and the Middle East saw traffic plummet by 95% by the middle of April.
It notes that the region has also been hardest hit by the outbreak, having lost nearly 40% of traffic, or about 340 million passengers, in the first quarter of the year. This equates to about 10% of revenue wiped out, with the risk that more could be lost by year-end.
All of this is happening as airports trot out ambitious expansion projects such Changi's Terminal 5, Hong Kong's three runway system, and Bangkok's terminal expansion.
Thus, the question remains: will the mega airport idea emerge from the coronavirus outbreak unscathed, or will the pandemic force airport operators here to rethink expansion plans?
BIGGER, BIGGEST
The region's mega expansion projects were conceived during a time when passenger traffic was experiencing tremendous growth. Guided by recent experience, planners assumed uninterrupted growth would continue into the 2020s and 2030s.
Hong Kong's third runway project, for example, was first floated in 2016, a year when passenger numbers rose above 70.5 million.
Known as the Three Runway System, it will involve the reclamation of about 650 hectares of land north of the existing airport compound. The third runway will be 3,800m in length. A third terminal will also be built, adding 57 new parking positions to the airport.

Hong Kong expects the 3RS, as it is known, to be completed by 2024, adding 30 million passengers per year to its throughput.
In Singapore, the Changi East project also came about as a result of burgeoning traffic. On its website, the Changi Airport group states that the project will "serve to secure Singapore's air hub status and ensure its continued competitiveness and relevance".
It comprises the new fifth terminal, a third runway which is an extension of an existing military runway, as well as other support and industrial facilities.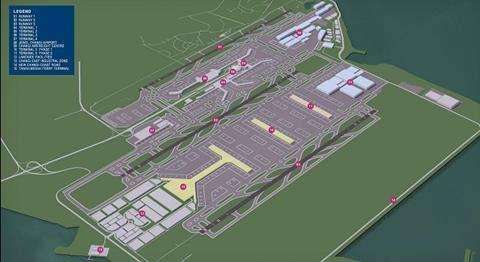 The sprawling 1,080ha project, which kicked off in 2014 with planning and land preparation works, is Changi's most ambitious expansion since its first terminal opened in 1981. While not much has been said about how much the project costs, it is believed to be upwards of tens of billions of dollars.
The present form of Terminal 5 – taking the shape of one main terminal with two satellites – was officially announced in 2015, kickstarting years of construction.
Singapore and Hong Kong, both major hub airports in the region, are just two high-profile examples of behemoth airport infrastructure plans.
Most recently, in January, Tokyo authorities approved the construction of a third runway at Tokyo Narita, which will raise the number of take-off and landing slots at Narita to 500,000 per annum. This, the authorities say, will allow Narita to handle 75 million passengers annually by between 2032 and 2048.
In Bangkok, expansion plans for Suvarnabhumi airport, also floated around 2015 or so, have included building an additional terminal and satellite terminals, with a third runway. However, it is unclear if the Thai government will proceed with these plans following reports of delays and opposition.
RETHINKING THE MEGA AIRPORT IDEA?
Then there are those whose plans for a mega airport project have been put on the backburner, even before the coronavirus outbreak began.
Dubai's bold plans for the world's largest airport – with an annual capacity of over 250 million passengers – at Dubai World Central have been shelved indefinitely, following years of timeline revisions.
Industry watchers reckon that slow and steady is the best way to recover from the crisis, but stopped short of saying the mega airport concept is a thing of the past.
ACI Asia-Pacific director-general Stefano Baronci acknowledges that the coronavirus outbreak has been "devastating" for airports.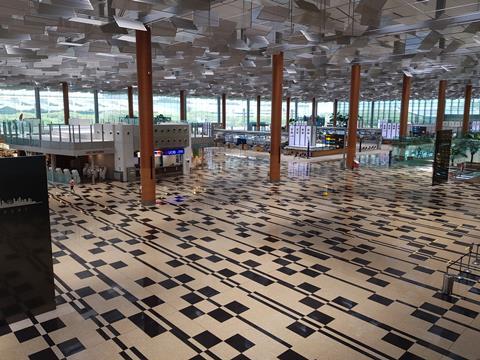 The ACI notes that the number of mega airports – those handling more than 40 million passengers a year – has grown from three to 23 in over a decade from 2008.
"Against this background, it became absolutely essential to invest in long-term infrastructure projects to tackle traffic congestion and reduce delays," Baronci says.
"[The coronavirus outbreak] is truly an existential threat for our industry, and mega airports are no exception," he adds.
Ascend by Cirium's head of consultancy Asia Joanna Lu adds that the "demand crisis" running through the industry now is "probably more true for large airlines running hubs and large hub airports, as when there is travel demand, direct [point-to-point] travel is more preferred to lower the risk".
"The industry relies on hubs as they create opportunities for connections but also bear the cost of the risk of using hubs when there are disruptions. This might last for a longer time period as some fundamental drivers change," Lu adds.
Despite that, the ACI believes that mega airports still have a role to play, not least in meeting the demands of societies and economies.
"More than ever, airports will need to be strategically decisive for the recovery of states," Baronci says, reiterating calls for more relief measures for airports.
Lu adds that airports, in particular hub airports such as Changi and Hong Kong, must "think creatively" in their post-pandemic strategies.
"I think the large hubs need to think about their way forward in capital expenditure [on mega projects], as all of them will experience overcapacity for a while.
"For these airports it would be important to follow the market trend and think creatively for their strategy going forward. New technology might play a more important role in airports," Lu adds.