Electric air taxi developer Archer Aviation has secured contracts with the US Air Force (USAF) worth up to $142 million, expanding both its partnership with the military and potential use cases for its in-development Midnight aircraft.
The California Bay Area start-up said on 31 July that it would deliver up to six of its yet-to-be-certificated aircraft as part of the USAF's AFWERX Agility Prime programme to "assess the transformational potential of the vertical flight market and eVTOL technologies" for US Department of Defense (DoD) purposes.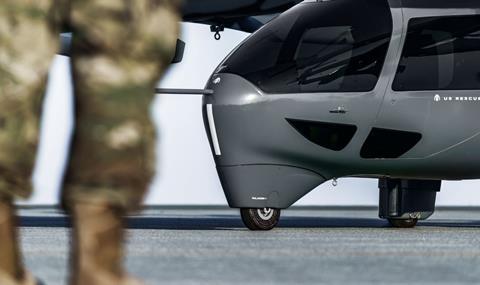 "We look forward to working closely with the US Department of Defense and the US Air Force to integrate Midnight into their operational fleet with a focus on transport, logistics and rescue operations," says Adam Goldstein, Archer's chief executive.
Other branches of the military may "leverage these contracts as a platform for additional projects", possibly adding value to Archer's partnership with the DoD, the company says.
"We have been working with the DoD for several years, across several different programmes, from acoustics to autonomy," Goldstein said during Archer's 11 May earnings call. "As we have gotten deeper in, we have seen the DoD expand relationships across the industry."
The US government has shown increasing interest in developing electric vertical take-off and landing (eVTOL) vehicles for military operations. In April, competitor Joby Aviation disclosed a $55 million extension to its Agility Prime contract with the USAF to deliver and operate up to nine of its yet-to-be-certificated aircraft, raising the value of the company's contract with the service to $131 million.
Archer has been working with the DoD since 2021 and recently entered the "execution phase of the partnership", which will include sharing flight-test data, pilot training and developing maintenance and repair operations for its air taxis.
"The DoD recognises that with its vertical take-off and landing capabilities, target payload of approximately 1,000lb [450kg], proprietary electric power-train system and low noise profile, Archer's aircraft represents a potential paradigm shift in military aviation and operations," the start-up says.
eVTOL vehicles "represent the cusp of the third revolution in aerospace", says Tom Meager, AFWERX Prime lead. He adds that "these aircraft and their descendants will drive advances in capabilities and efficiency" for the USAF.
Archer recently manufactured its first Midnight aircraft and plans to fly it imminently, with certification flights set to begin next year, chief safety officer Billy Nolen told FlightGlobal earlier this month.
Archer and Joby are racing to achieve certification from the Federal Aviation Administration and begin flying passengers in major US cities by 2025.