Electric air taxi developer Archer Aviation recently completed wind-tunnel testing of a scaled-down model of its in-development "Midnight" aircraft.
The six-week programme involving a 28% scale, unpowered model of Midnight with a 13-foot wingspan was completed at RUAG's Large Subsonic Wind Tunnel in Switzerland, Archer said on 27 March.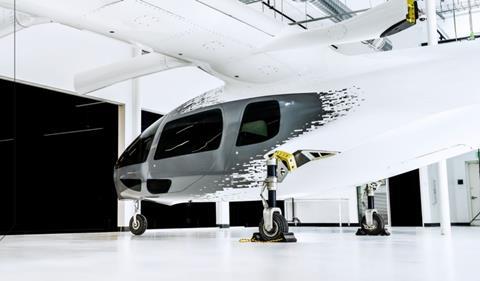 "This wind tunnel test represents a significant risk-reduction and validation milestone for Archer," says the California-based start-up. "The results further reinforce our confidence in the capability and performance of the Midnight design."
The electric vertical take-off and landing (eVTOL) aicraft's 12 propellers did not spin during testing, which focused on airframe aerodynamics.
Data was collected on Midnight's performance in cruise, including the drag of airframe components and the aircraft's high-lift capability and stall speeds. "Of particular interest was exploring those conditions where airflows are unsteady and difficult to predict analytically with high accuracy," Archer says.
Archer says its cruise-drag predictions "trend extremely well with test data" and support Midnight's projected 100mi (161 km) range. The aircraft's maximum lift capability exceeded expectations, the company says, which "assures us that we've correctly set the stall and approach speeds for the airplane".
A component build-up allowed the team to start with bare wings and fuselage and analyse the drag of individual components – booms, a landing gear, tail and unmoving lift propellers – as they were added to the airframe.
Simulations of icing scenarios provided the company insight on "speed additives necessary to protect the aircraft from performance degradations that we would expect to encounter during an inadvertent icing encounter".
Notably, Archer and United Airlines recently added Chicago to the air taxi's list of 2025 launch cities with a downtown-to-O'Hare International airport route that would involve operating in wintry conditions.
Another upcoming wind-tunnel test programme will gather data on the effects of the aircraft's propulsion system on its aerodynamic performance.
Midnight is designed to seat one pilot and four passengers, carry 450kg (1,000lb) of payload and charge in 10min. The prototype Midnight aircraft is in the final stages of production, with ground testing expected to begin within the next several weeks.
Archer is building a nonconforming, unpiloted Midnight prototype that will use for test flights in advance of credit testing with the US Federal Aviation Administration. The San Jose start-up will then build "at least" six conforming Midnight airframes for that will be used for FAA trials.
"Theoretically, you could sell the planes afterwards or put them into operation, and those are getting built starting now," Adam Goldstein, Archer's chief executive, tells FlightGlobal on 20 March. "So next year, we'll have a fleet of piloted planes flying around – the real, conforming plane."
One of many eVTOL companies pushing for commercialisation, Archer is aggressively pursuing a type certificate with plans to launch operations in 2025.