At least one Asia-Pacific operator of Pratt & Whitney's (P&W) beleaguered PW1100G engines warns that the latest technical issues will have "significant' impact on their near-term schedules.
Air New Zealand, which has 16 PW1100G-powered A320neo and A321neo aircraft in its fleet, says the latest issue "will further reduce engine availability" and is likely to impact its schedules from January 2024.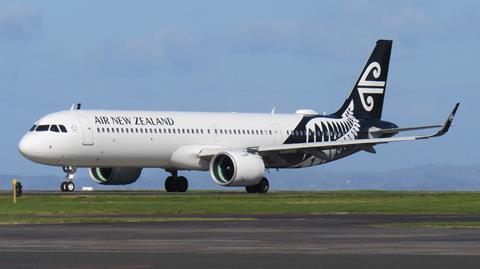 "Following this most recent market update, Air New Zealand will work with Pratt & Whitney to implement the new maintenance plan and assess how this may affect the airline's future schedule," the carrier states.
"While there is no immediate impact to Air New Zealand's flights, it is likely the airline will need to make adjustments to its schedule in coming months, some of which may be significant," adds Air New Zealand.
P&W parent RTX on 11 September said that between now and 2026, around 600-700 engines must be removed and inspected for defective high-pressure turbine and compressor discs.
The issue, which is set to cost RTX more than $3 billion, centres on a previously disclosed defect involving a "rare condition in powdered metal used to manufacture certain engine parts".
RTX added that it "expects a significant increase in aircraft-on-ground levels" for the PW1100G-powered fleet from 2024-2026.
According to Cirium fleets data, there are over 500 A320neo family aircraft powered by the PW1100G engine in Asia-Pacific. Major operators include Indian low-cost giant IndiGo, Singapore-based Scoot, as well as Cebu Pacific.
Scoot tells FlightGlobal the latest technical issue will affect four PW1100G engines in its fleet of A320neo family aircraft, and that it might make schedule adjustments in light of engine inspections.
"We will continue to work closely with Pratt & Whitney to assess and mitigate the impact of these removals to our operations. Scoot may need to adjust some of our flights to accommodate fleet inspections in the coming weeks," the low-cost unit of Singapore Airlines states.
Japan's All Nippon Airways says it is still evaluating the impact of P&W's latest announcement, with no indication yet of any schedule changes. The Tokyo-based carrier has 33 PW1100G-powered aircraft in service.
Similarly, IndiGo says it will "assess the potential impact to our fleet and implement mitigation measures as required". The low-cost carrier has the largest PW1100G-powered fleet in Asia-Pacific, with 87 A320neos and 15 A321neos. Another 24 A320neos are listed as stored on Cirium fleets data.
Another Indian low-cost operator Go First suspended operations in May amid financial woes, though it blamed the durability of the PW1100G engines for the grounding of half of its fleet, leading to its suspension.
FlightGlobal has also reached out to other operators including Cebu Pacific and China Airlines for comment.