Asia-Pacific carriers are expected to continue recovery momentum through the end of the year – with profitability in the near-term – though a key challenge will be making sure capacity "can catch up" with demand.
IATA regional vice president for Asia-Pacific Philip Goh notes the region is expected to recover between 70 and 73% pre-pandemic traffic by year-end, a significant jump from earlier this year, but still lagging behind most other regions.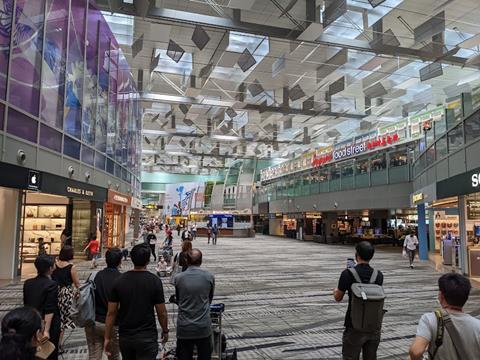 Goh spoke to FlightGlobal in Singapore on the sidelines of a pre-show conference for the Transport Logistic and Air Cargo trade show.
He notes that the region's reopening only got into full swing around April, when several countries – including Singapore and Malaysia – fully opened their borders for travel.
However, while most countries report "good momentum", those that depend on traffic from Mainland China – such as Thailand and Vietnam – have yet to see a meaningful recovery.
A key challenge amid the recovery – and an often-repeated point – is that airlines in this region are unable to keep up with a strong return in demand, leading to widespread operational snares, including flight delays and cancellations, higher fares, as well as lost baggage.
Goh says that the region has not been hit by issues in the same scale as that in Europe or North America, partially because "the numbers are not there yet", referring to a "tipping point" where demand far outstrips the supply of seats.
He also warns that this could become a reality if airlines, as well as the larger air transport sector, fail to plan ahead, in gauging demand and hiring manpower.
"[This is] why [IATA is] telling [airlines to] anticipate, prepare, project and then get resources ready," he adds.
PANDEMIC 'RESET' AN OPPORTUNITY
Goh believes the two-year pause on operations is an opportunity for Asia-Pacific carriers, as it allows them to "do a reset".
"[Airlines] have time to think about where they want to be when things recover…[and] to even think about the products, or [whether] to operate the same fleet: what do they do with the older fleet, for example," he says.
"[At] the same time, good airline planners know that [the pandemic] will come to pass in a year's time, in two years' time…[and by then] we must be in a different place. Even if [the] fleet is smaller…which routes [are going to be] served profitably or have good economic returns? Those are the things airlines need to put in place," Goh tells FlightGlobal.
Goh also reiterates optimism that the region's carriers will achieve industry-wide profitability by 2023, "if recovery momentum continues".
IATA forecasts show the global airline sector turning profitable in 2023, following a projected loss of around $9.7 billion, narrower than earlier forecasts. Asia-Pacific carriers are expected to post a combined loss of $8.9 billion this year.