US cargo and charter airline Atlas Air Worldwide has taken delivery of the second of four new Boeing 777-200 Freighters it plans to operate on behalf of shipping giant MSC Mediterranean.
Atlas said on 20 July that it expects Boeing to deliver the two remaining widebody freighters in the fourth quarter of 2023.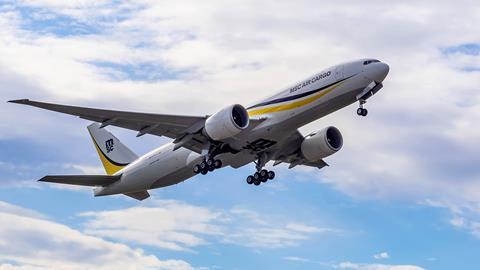 The new freighter rolled off the production line at Boeing's Paine Field in Everett, Washington and completed its first flight on 5 July. It carries the serial number 67993.
The jet was delivered as part of a long-term aircraft, crew, maintenance and insurance agreement between the Purchase, New York-based Atlas and MSC, which is headquartered in Geneva, Switzerland.
MSC Air Cargo Solution began operating the first of the 777s in November 2022, marking the global company's entry into the air cargo business. The second 777-200F will complement the shipping specialists' weekly flights to airports in Mexico City, Indianapolis, Liege, Seoul and Xiamen.
"Building on the successful launch of MSC's Air Cargo Solution, we are very pleased to welcome this second 777 delivery as part of our long-term strategic partnership," says Michael Steen, chief executive of Atlas Air Worldwide Holdings.
The longest-range twin-engine freighter in the world, the 777-200F is capable of flights as long as 4,880nm (9,038 km).
Former Atlas CEO John Dietrich recently joined FedEx as the shipping company's chief financial officer. Dietrich's departure from Atlas was announced as a retirement, but, notably, he left after the business was taken private earlier this year by a consortium led by Apollo Global Management.
Atlas operates a fleet of Boeing 747s, 777s, 767s and 737s, and the company took delivery of the last-ever production 747 in January.