Turboprop manufacturer ATR is nearing completion of the first phase of modifications to a 42-600 test aircraft to turn it into a short take-off and landing (STOL) variant.
Changes to MSN811 (F-WWLY) to bring it to the "partial STOL configuration" include reinforcement of the rear fuselage, installation of the auto-braking and ground spoiler systems, plus the control computers for those systems.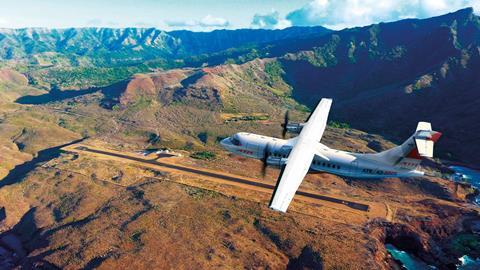 ATR says the next phase of ground testing will be followed by the first flight of the STOL variant.
Simone Stanchi, STOL programme director, says the early flight-test phase will run until around year-end.
"Eventually we will stop the aircraft again for a second conversion to bring the aircraft into its final configuration," he says.
In particular, this second modification phase will see the installation of a new, large rudder, he says, ushering in another round of testing, including flights supporting certification; European approval is scheduled for the second half of 2024.
A fully configured 42-600S will be capable of landing on runways as short as 800m (2,625ft).