French start-up Aura Aero is a few weeks away from settling on the design of its Electric Regional Aircraft (ERA), as it pushes to maintain a first flight target of late 2024.
Designed to carry 19 passengers or 2.5t of cargo on flights of up to 1,000nm (1,850km), the hybrid-electric ERA is set to enter service in 2027.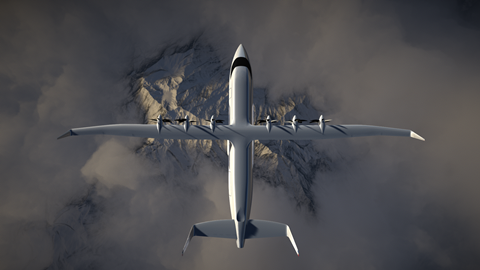 "We are a few weeks away from having the concept frozen. It is progressing very well. Industrial launch will happen quite rapidly after that," says Jeremy Caussade, co-founder, president and chief engineer of the Toulouse-based manufacturer.
Current designs for the ERA show an aircraft with six electric propulsion units distributed along the wing – Caussade says around 2MW of power is required at take-off – a streamlined fuselage, and a distinctive tail with twin vertical stabilisers.
Caussade, an Airbus veteran, says considerable effort has been expended over the latter part of 2022 to "demonstrate that the concept is workable and we have the techno-bricks and suppliers at the right level to proceed with the programme."
Save for Safran, which is to provide the aircraft's six electric motors and high-voltage electrical distribution and protection system – and potentially the turbogenerator - no suppliers for the programme have so far been announced.
Caussade says the ERA's supply chain will be revealed in early 2023, with key decisions to be made around the avionics and fly-by-wire controls.
"We are in talks with big aerospace players worldwide. We are not a start-up programme with supplier start-ups involved – we will have lots of very big players involved," he says.
In addition, Aura is evaluating which elements of the aircraft it may build itself, rather than outsource.
Although Caussade admits the first-flight target of late 2024 is "challenging", he stresses the importance of maintaining progress in order to achieve service entry in 2027. However, he says it will not be a disaster if the maiden sortie slips into the following year.
"I fully believe that we will make this aircraft a reality from a certification and industrial standpoint," he adds.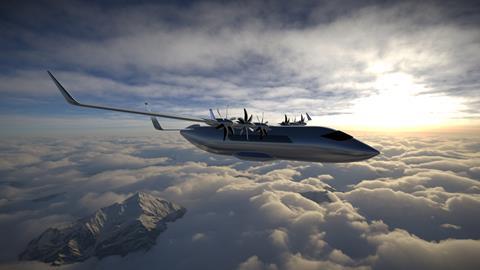 He believes the hybrid powertrain will be scalable beyond 19 seats, but at this stage is hesitant to commit to the exact size of any follow-on aircraft.
Aura is currently engaged in a Series B funding round, seeking in the region of €50 million ($51 million). That process is "well advanced", he says, but is still open to new investors.
To date, the company has been bankrolled by private funds, Paris-based venture capital firm Innovacom, and the Occitanie region of southwest France.
This has enabled the establishment of a 5,000m² (53,800ft²) production facility at Toulouse Francazal airport and development of the Integral, a two-seat trainer.
A combustion-engined version of the Integral is in the final stages of European certification, while a full-electric variant is due to make its first flight in 2023.
Aura has so far gained letters of intent (LoI) for more than 330 aircraft, with the largest commitment a 200-unit deal from lessor Amedeo.
In early October, Aura revealed LoIs for 130 ERAs, of which only 95 were attributed to specific carriers – a mix of small regional or commuter airlines, plus a VIP aircraft specialist.
The undisclosed customers will be unveiled in the coming weeks, he adds, "and we will announce several tens of additional aircraft".
Caussade says it is seeing interest from cargo operators, commuter or regional airlines, and the business aviation sector.
While the orderbook is dominated by smaller firms at present, Aura is also "discussing with bigger names who want to take advantage of the roll-out of such technology". While there are substantial airlines in the mix there are "even more big logistics operators", he adds.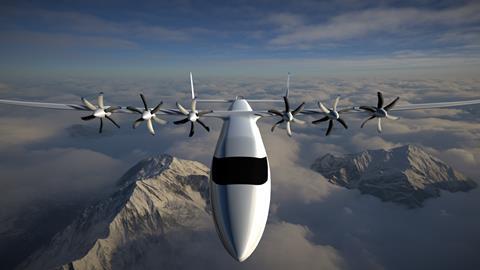 Dominic Perry is deputy editor of Flight International but also contributes extensively to flightglobal.com. Although specialising in the coverage of the helicopter industry, he has written on most topics in aerospace – be they commercial, defence or business aviation. In addition, there has been an increasing focus on the decarbonisation of the industry and zero-emission flight initiatives.
View full Profile