Airlines trade organisation IATA says the industry must thoroughly prepare to play a leading role in the distribution of a coronavirus vaccine when one becomes globally available.
The organisation says on 30 September that it will need to closely coordinate and partner with humanitarian aid organisations, pharmaceutical companies, border authorities and other logistics professionals to mastermind a plan for what could mean transporting billions of vials to all corners of the earth quickly and safely.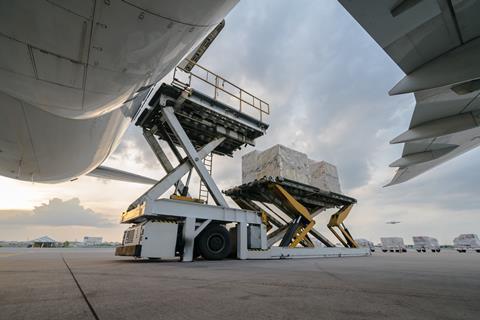 At the moment, little is known about what kind of transportation the vials will require, or how many doses will need to be moved around the world. An estimated 7.8 billion vials – one per living person - would require a capacity of 8,000 Boeing 747 aircraft, IATA head of cargo, Glyn Hughes says.
"Will they need to be deep frozen? Or can they be transported in a more conventional cooling chain of between" 2-8°C (36-46°F)?
"It's a very delicate live culture," Hughes adds. "If something happens to the temperature range, [the entire shipment] has to be thrown away."
In addition to the temperature safety aspect, physical security is another top concern which will require in-depth planning and preparation, in order to "avoid unlawful interference with critical supply chains", Hughes says.
"If you look at many parts of the world where there aren't a lot of freighter operations, it's critical that there is a robust network of passenger services in place to adequately provide the capacity necessary to transport [the] vaccine when it becomes available," he adds.
The trade group said earlier this week that global cargo capacity, measured by available cargo tonne-kilometres, shrank by 29.4% in August, year-on-year. July had shown a 31.8% drop. The biggest issue continues to be a dearth of belly-cargo capacity in widebody passenger aircraft. Widebody aircraft carry particularly high levels of cargo, but have seen the greatest declines in utilisation through the past months as the global health crisis drags on.
In total, belly capacity for international air cargo was down 67% year-on-year in August – partially offset by a 28.1% increase in freighter capacity, IATA said.
However, until a vaccine becomes widely available, IATA says the air transport industry must learn to live with coronavirus. It is advocating for pre-departure testing that would act as an alternative to quarantine requirements. Last week, IATA charman Alexandre de Juniac said a systematic pre-flight coronavirus testing regime for all international passengers is the only way to kick-start the airline sector's recovery.
The scale of testing required – perhaps millions of passengers daily – means non-medical personnel would need to deliver tests, he said. At the same time, governments must to agree to common testing standards - possibly with ICAO's involvement - to ensure "mutual recognition" of results.