Boeing freighters sporting DHL's distinctive yellow and red paint scheme are an unmistakable and familiar sight at Bahrain International. The German logistics and parcels carrier – which has had a presence in the kingdom for 40 years – has helped Bahrain establish a reputation as one of the Middle East's key cargo crossroads.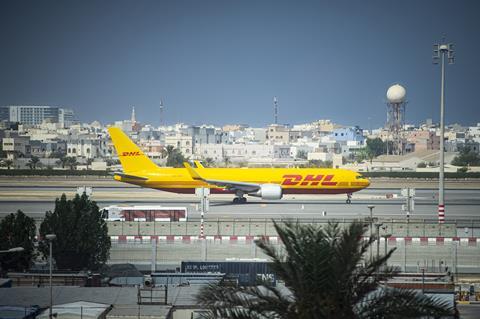 Bahrain is enhancing its airfreight cluster credentials. The airport is also home to growing independent airline Texel, which has built a reputation as both a subcontractor for DHL and a specialist in its own right. It is expanding its fleet next year with two more aircraft. Meanwhile, another Bahraini company, MENA Aerospace, is establishing its own cargo venture.
In addition, the airport is building a cargo village, laying the foundation stone for the 25,000sq m (269,000sq ft) complex in June. It has signed a 10-year agreement with anchor tenant, DHL's rival FedEx Express, which will move into its 9,000sq m part of the facility by January 2024. FedEx has its Middle East headquarters in Dubai, but has been present in Bahrain for 31 years.
The US company says its commitment to the Cargo Village will help Bahraini companies grow their business by improving their wider market access, and contribute to the kingdom's expanding logistics infrastructure. As well as Bahrain's strategic location, it says the country's "business-friendly environment", skilled workforce, and fast customs clearance makes it an attractive location.
The cargo village is part of the kingdom's strategy for the logistics sector as laid out in its economic recovery plan. That includes plans to link air cargo operations at Bahrain International with the nearby Khalifa bin Salman container port to make it easier for freight forwarders to ship heavy consignments from East Asia to Bahrain and then have them broken up for airfreight.
Bahrain says the development will give it the fastest multi-modal logistics hub in the region, with a two-hour turnaround time for goods arriving by sea to arriving at the airport, thanks to a "state-of-the art digital processing solution". The government says the Global Sea-Air Hub makes the most of the country's "strategic position" between Europe and Asia and its "proximity to regional markets".
It claims shippers who use the hub to combine sea and air freight could save 40% of the cost of using air alone while cutting in half the time it would take making the journey entirely by water. Sending Europe-bound consignments from Asia via the Gulf also, of course, also avoids the sometime bottleneck of the Suez Canal.
DHL TO INCREASE BAHRAIN FLEET
DHL Express has a fleet of 15 aircraft based at Bahrain International, nine of which – seven Boeing 767-300s and two 767-200s – are on its own local air operator's certificate. It wet-leases another six, three 737s from Texel, its fellow Bahraini operator, two Airbus A300-600s from its German sister airline, and a 767-200 owned by Poland's SkyTaxi.
Three more 767-300s will join the AOC next year, two of them as 767-200 replacements. "Our fleet has doubled in two years, and we are still outgrowing our aircraft," says Richard Gale, vice-president aviation for DHL in Bahrain. "Six years ago, we were mostly intra-regional. Now we have bigger planes and longer routes – we do Bahrain to Hong Kong three times a day."
Bahrain is the smallest of four global DHL air hubs for DHL, the others being Cincinnati, Leipzig, and Hong Kong. However, its footprint in the kingdom is set to get bigger. Accompanying the fleet expansion will be a major revamp of its airside sorting facility, allowing DHL to process 4,500 consignments an hour, compared with 1,500 today.
The growth is unlikely to stop there. In the longer term, the company also wants to build a hangar, allowing it to carry out its own line maintenance. "We outsource our MRO at the moment, but we would love to take that in-house," says Gale. While there are no concrete plans, he suspects there will be a need to grow the AOC further at some point, possibly with 777s.
Gale describes Bahrain as the "perfect" location for a hub. "Geographically, it is between Europe and Asia and also ideal for large e-commerce markets such as Saudi and the UAE," he says. "Bahrainis are well educated, including in disciplines like IT, and aviation is getting stronger. From a regulatory point of view, the government is highly supportive, and we don't have weather problems."
As it did for every aviation operator, the pandemic presented challenges, not least with managing crews and other staff. However, in common with other freight providers, DHL was in constant demand, as locked-down households turned to e-commerce and there was a need to transport urgent consignments, including vaccines and other pharmaceuticals and medial equipment.
"Covid was chaos," admits Gale. "But while commercial collapsed, we still needed to deliver, so we kept flying, serving up to 20 key routes, even if our planes weren't full because a lot of the time it was essential supplies." In some cases, long-haul crews could not disembark because of local border controls. "It was complicated, but getting through it is one of the things I'm most proud of," he says.
DHL, which is the official logistics partner at this week's Bahrain International Airshow, is exhibiting one of its 767-300s on the static and taking part in the flying display. "It is a great opportunity for us every two years to showcase our brand and support what the government is doing," says Gale. "We also have a lot of our commercial customers in town so it is a chance to meet with them."
TEXEL CONVERTED 737-800 FIRST
Texel is one of two other cargo operators with a Bahrain AOC. Set up in 2013, the carrier has marked two industry firsts. At the 2018 show, it debuted the Boeing 737-700 FlexCombi freighter from Pemco World Air Services. The converted airliner combines a cargo area with a flexible passenger cabin that be configured for 12 or 24 passengers. Texel added a second example last September.
In January this year, Texel took delivery of the Middle East's first converted 737-800 freighter. A second joined in September. In May, it placed orders for a further two for delivery in the first quarter of next year, which will take the company's fleet to seven – it operates another 737-300. Three of the aircraft – the 737-300 and the two -800s are on contract to DHL, flying scheduled services.
However, Texel is also keen to market its on-demand services, and has a major presence at the show, with one of the FlexCombi aircraft on the static. Post-pandemic, the company is keen to "relaunch our platform and re-engage with the world," says director George Chisholm, a British-New Zealander who has lived in Bahrain much of his life, and is the son of the firm's founder.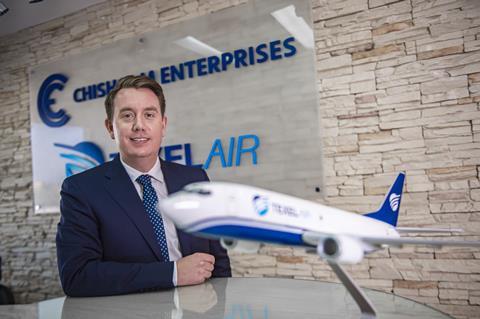 The FlexCombi gives Texel a key selling point, including in specialist sectors such as racehorse transport. "It's a product we believe in," says Chisholm. Texel can switch the configuration by moving the internal bulkhead in 48h. Like the two -800s, the FlexCombi is retrofitted with head-up display enhanced flight vision systems that "increase our window to operate", says Chisholm.
He says that, despite being a "family business that is quite conservative in what we do," the company made a decision to expand during the pandemic. This was partly due to the retirement of a slew of older commercial airliners that were available for conversion to freighters. "Covid and the dip in the values of feedstock enabled us to own our assets," says Chisholm.
The ACMI (aircraft, crew, maintenance and insurance) agreement with its neighbour DHL gives Texel the best of both worlds, he says, as it provides steady revenue for the scheduled services – Texel's narrowbodies being a more cost-effective option on short-haul feeder routes for the parcels giant – while allowing the company to market its own niche services in the region and beyond.
Equine transport is one where Texel is keen to build on its experience, given the number of animals that move around the region every season – wealthy Gulf Arabs often being huge fans of and stakeholders in the sport. One of the company's 737-800s can carry 21 horses, while the smaller FlexCombi offers the option of teams travelling with the animals.
It is not a year-round business, with the racing season taking place between November and June. The specialist companies that look after the horses from stable to course are Texel's customers, and the business has invested in specialist equipment to look after them, including static on-board horse stalls, which provide a better experience for the horses than collapsible ones, says Chisholm.
He says the support of the airport and the Bahrain authorities has been key to Texel's expansion, which he says will not stop with the additional aircraft. The business began doing its own base maintenance from its hangar during the pandemic and has plans to continue. Chisholm is also "open to" offering CMI services – like ACMI but using the customer's own aircraft.
However, the -800s, particularly the two new ones that will join the fleet next year, will be crucial to Texel furthering its ambitions, allowing it to broaden its destination network and raise payloads. The type carries up to 23.9t and has a range of just over 2,000nm, or four hours. This opens routes from Bahrain such as Istanbul, much of India, as well as eastern and north Africa, says Chisholm.
MENA SEALS STRATEGIC ALLIANCE
Texel's airport neighbour MENA, a longstanding Bahrain aviation company with its own AOC, has set up various ventures in the past, including business jet management operations. Its latest is a cargo carrier. Advised by veteran airfreight entrepreneur Michael O'Brien, the airline plans to lease two 737-800 converted freighters early next year, with four more joining the fleet in 2024 and 2025.
Earlier during the show MENA announced a "strategic alliance" with Singapore-based Asia Cargo Network, under which the latter will base six of its freighters in Bahrain and the GCC. Two of them, a 737-800F and a 767-300F, will begin operations in the next two months, say the companies. The aircraft will join MENA's existing 737-300, and the venture will operate as MENA Cargo.
MENA launched its cargo offshoot last November with a former Southwest Airlines 737-300, converted by Pemco, transferring its AOC from a previous private jet management operation. Mohammed Juman, MENA's founder and managing director, said the "phenomenal growth" of e-commerce between Asia and the Middle East prompted the move.
FedEx Express shares that confidence in e-commerce's potential. Its vice-president of Middle East and Africa operations Taarek Hinedi says online commercial activity in the Middle East and North African will exceed $28 billion in 2022. Growing incomes and internet penetration, and fewer border restrictions on trade means "there is a huge amount of growth yet to be realized", he believes.
FedEx estimates that global e-commerce, which makes up 16% of the total air cargo market, will double to be worth more than $4.4 trillion by 2025, with small companies and consumers "maturing" in their attitude to buying over the internet, despite the post-pandemic return of bricks and mortar shopping.
Such a trend would be good news for all those backing Bahrain's investment in the cargo market. The kingdom's commitment to join the likes of other city-states such as Singapore and Dubai in becoming a vital staging post in the global flow of goods – from shipping containers to the smallest parcel – is a central theme of this week's show.