US air taxi developer Beta Technologies has opened a production facility at Burlington International airport in Vermont, where the company will manufacture and assemble its all-electric Alia aircraft.
Vermont-based Beta said on 2 October that "production has begun with the installation of assembly tooling and the initiation of various system production lines", adding that the moment marks a "significant milestone" in the company's mission to deliver conventional take-off and landing (CTOL) and vertical take-off and landing (VTOL) variants of its Alia air taxi.
"We are entering our next important step of starting production, in an inspiring facility," says Kyle Clark, Beta's founder and chief executive. "The internal Beta team – along with many awesome local contractors, tradespeople and civil servants – have challenged each other to create a beautiful, sustainable and functional building for producing the future of aviation."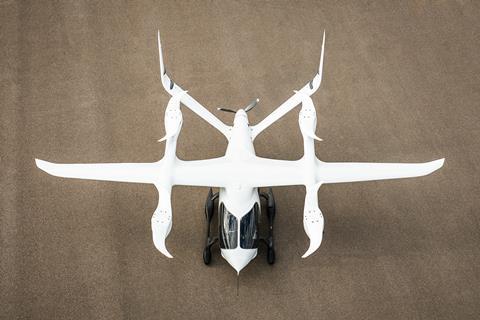 Located on a 16-hectare (40 acre) site with space for "significant expansion", the 17,512sq m (188,500sq ft) facility will eventually become capable of producing up to 300 aircraft annually, Beta says.
"Beta is planning for a steady ramp-up to maximum production rates and delivery to its diverse base of customers across cargo, medical, defence and passenger industries," it adds.
The company does not specify when it expects the first aircraft to come off its production line.
The building is equipped with 260 geothermal wells for indoor temperature control and about 12,140sq m of solar panels "contributing to a net-zero campus", Beta says.
Leading up to completion of the production facility, Beta has been "refining pilot production line efficiency and flow for its internally developed technologies and systems, including battery packs, electric motors and inverters".
The start-up is internally designing and manufacturing its electric motors, battery systems and flight-control hardware and software systems, while partnering with more established aerospace companies on "various systems and components for its production aircraft".
"Beta has long been partnering with many of its primary suppliers, meaning the bulk of its 26,000 test flight miles have been conducted with the same supplier parts and systems designated for the production aircraft," the start-up says.
Beta's partners include Albany Engineered Composites, Advanced Integration Technology, Garmin, Sensata Technologies, Volz Servos and Solvay.
The company claims it has completed more than 500 "full-scale, piloted flights on Beta-built battery systems" and conducted more than 10,000h of testing on motors produced on its pilot production lines.
Beta is considered a frontrunner in the crowded air taxi segment along with California start-ups Archer Aviation and Joby Aviation. The company is pursuing type certification for Alia with the Federal Aviation Administration, anticipating a 2025 entry into service for the CTOL Alia variant, with approval of its eVTOL to follow in 2026.
It has courted civil aviation customers in addition to the US military. Last month, the US Air Force (USAF) took possession of its first-ever electric aircraft charging station, which Beta installed at Eglin AFB in Florida.
The USAF awarded Alia military airworthiness approval in 2021 under the Agility Prime programme.