BOC Aviation signed fewer lease commitments and extensions in 2020's fourth quarter than in the same period of 2019, and its aircraft sale activity likewise declined.
The Singapore-based lessor signed 12 lease commitments and extensions during the three months ended 31 December 2020, compared with 37 lease commitments a year earlier. However, it increased its total lease commitments and extensions in 2020, with 102 last year compared with 87 in 2019.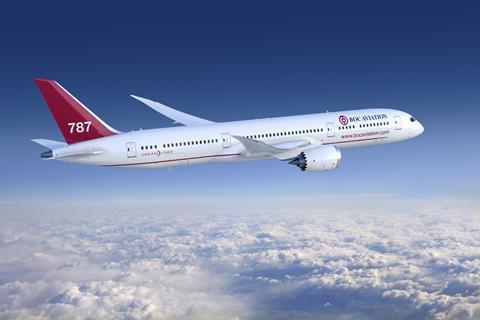 It has declined to provide a breakdown of lease commitments and extensions.
BOC Aviation sold two owned aircraft in 2020's fourth quarter, bringing the total number of owned aircraft sold during that year to 12. By contrast, it had sold six owned aircraft in 2019's fourth quarter and 28 during the whole of 2019. That year it also sold two managed aircraft on behalf of third-party investors.
The lessor took delivery of 25 aircraft in the fourth quarter of 2020 and a total of 54 across the entire year, including one acquired by an airline customer on delivery. In 2019, it had taken delivery of 20 aircraft in the fourth quarter and 54 across the entire year, including 12 acquired by airline customers upon delivery.
"We are pleased to record a robust operational performance in 2020, executed in a challenging environment," states BOC Aviation chief executive Robert Martin.
"We supported our airline customers and added high-quality assets to our portfolio, including taking delivery of our 300th Boeing aircraft. During the year, we took delivery of 54 aircraft, 16 of which were delivered in December, and we sold 12 aircraft. We ended the year as the most valuable listed aircraft operating leasing company with a market capitalisation of $6 billion."
As at year-end, BOC Aviation had available liquidity of over $5 billion comprising cash and undrawn credit facilities.
Chief financial officer Steven Townend states: "We continue to lead the industry with one of the best credit ratings, being A- from both S&P Global Ratings and Fitch Ratings, a young average fleet age of 3.5 years and a long average remaining lease term of 8.6 years."
That average fleet age has risen slightly from 3.1 years at the same time in 2019, while the average remaining lease term has increased from 8.4 years.