BOC Aviation's net profit dropped by over a quarter in 2020 mainly due to the Covid-19 pandemic, although it managed to break the $2 billion revenue barrier for the first time.
The Singapore-based lessor reported a profit before tax of $563 million and a net profit after tax of $510 million, both declining 27% year-on-year, an 11 March filing to the Hong Kong stock exchange shows.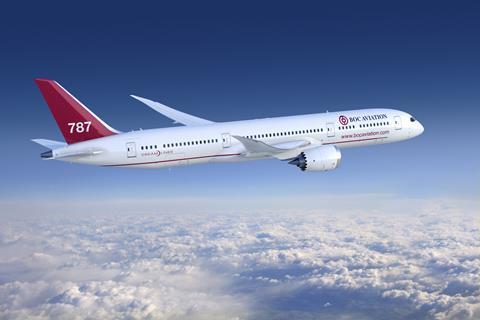 The dip in profits will not be a surprise to investors and analysts, since the lessor issued a profit warning in January noting that its net profit for the year could be at least 25% down on 2019.
Total revenue for the year ended 31 December 2020 was $2.04 billion, up 3.9% from $1.98 billion in 2019 and is the first time its annual revenue has exceeded $2 billion. Lease rental income, which represented 86.9% of overall revenue, increased 4.7% to $1.78 billion, mainly driven by fleet growth from 317 aircraft as at 31 December 2019 to 352 aircraft at the end of 2020.
Costs and expenses in 2020 rose 24.1% to $1.49 billion from $1.2 billion in 2019.
In 2020, the lessor was affected by delivery delays from aircraft manufacturers amid Covid-19, whose affect on the lessor's suppliers, as well as its customers and their passengers, defined 2020.
"In response to these pressures, we adapted our strategy, benefiting from the deep experience of our management team. We worked closely with our airline customers and all of our stakeholders, which allowed us to maintain our record of unbroken profitability, taking total earnings since inception to $4.9 billion," it says.
During 2020, BOC Aviation increased purchase and leaseback activity while reducing net orders by 32 aircraft and deferring 74 orderbook positions. It delivered 54 aircraft to customers, including one aircraft acquired by a customer on delivery, taking its fleet to a "new high" of 398 aircraft.
It also "profitably" sold 12 aircraft, recording gains on sale of more than $44 million "in the most challenging year for aircraft sales since the global financial crisis". In 2019, it sold 28 aircraft.
Of BOC Aviation's leases, 81.1% are scheduled to expire in 2026 and beyond, a time by which many market observers – including Ascend by Cirium – predict air traffic will have returned to 2019 levels. The lessor also has no unplaced orderbook positions until 2023.
BOC Aviation cautioned that the pandemic will continue to affect its business this year.
"While the extent and duration of the Covid-19 pandemic remain uncertain, it has had, and it will continue to have, adverse impacts on the group and the industry in 2021," it said.
"As vaccines continue to roll out in larger numbers, the airline industry is expected to gradually recover, with airlines with large domestic passenger markets recovering first, and those more reliant on cross-border activity recovering more slowly as government travel restrictions and quarantine requirements are lifted. The air cargo sector is expected to continue to perform well."