Boeing took in 45 gross orders in August, with the month's sales activity dominated by leasing companies, which accounted for 38 of the total.
The figure includes a 25-strong 737 Max 8 commitment from SMBC Aviation Capital, and a deal for 13 of the type from Aviation Capital Group. SMBC's order brings the company's Max order book to 81 aircraft.
Boeing also booked orders for seven 787 Dreamliner widebodies from two unidentified customers, it disclosed on 12 September.
It had two order cancellations from unidentified customers, taking the net order figure for the month to 43. In July the company booked 52 gross orders.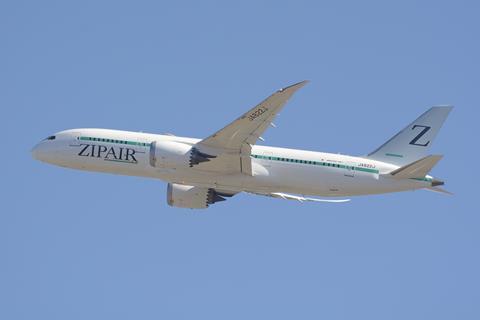 Deliveries during August also slid once again, to 35 aircraft, down from the 43 units handed over in July.
Shipments in August included 22 737 Max jets, one of which was a Boeing Business Jet, an 11-unit decline on the previous month's narrowbody total.
Southwest Airlines took the largest number of Max jets during the month, adding seven aircraft to its fleet, followed by United Airlines with five. Aercap took three examples, American Airlines took two, and Gol, Alaska Airlines, Aviation Finance & Leasing and BOC Aviation took one each.
For the year so far, Boeing has delivered 271 737s against its full-year target of 400-450. A new production issue, disclosed last month, may make that unfesable, however. It would need to deliver 33 to 45 737s each month through end-2023 to hit its goal.
Boeing also shipped 13 widebodies last month: five 767s – including three KC-46 military tankers – three 777Fs, and five 787s. The Dreamliner jets went to EVA Air, JAL's low-cost subsidiary Zipair Tokyo, Turkish Airlines, Qatar Airways and Saudi Arabian Airlines.
In the eight months to end-August the company had delivered 344 aircraft, including one 747, 17 767s, 15 777s and 40 787s, alongside the 271 737s.
In August, Boeing also made accounting adjustments that added another net 35 aircraft to its backlog. These deals are not new, but have been transferred out of a pool of orders the airframer reserves for those it believes may not actually close.
Boeing says that August was the 31st consecutive month during which these adjustments resulted in no decreases to the backlog, and that since January 2023, these adjustments have increased the backlog by 227 aircraft. That shows the increasing strength of the post-covid recovery in commercial aviation, the company adds.
Year to date, Boeing is showing 737 net aircraft orders, including those due to the accounting changes.
Boeing closed August with 4,971 aircraft in its backlog, up from 4,928 aircraft in July.