Boeing estimates Chinese carriers to require 8,600 new aircraft — at a pricetag of over $1.4 trillion — over the next 20 years, underscoring the airframer's optimism about what it deems a key market.
Boeing's latest 20-year estimate for the Chinese market, which spans until 2039, represents a 7% increase from its previous forecast released last year, with much of the demand coming from single-aisle jet aircraft.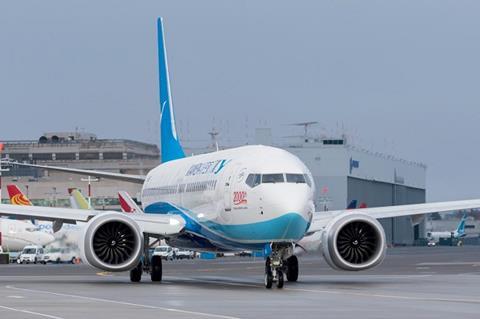 Of the 8,600 aircraft, about 75% of these jets are expected to be narrowbodies, and about 18% to be widebodies, with the remaining regional aircraft and freighters.
The Chinese market makes up about half of the total forecast deliveries for the Asia-Pacific region over the next 20 years, which Boeing has estimated to be around 17,500 jets.
Boeing's buoyant forecast is in spite of the coronavirus pandemic this year, which began in China, and has since plunged the aviation industry into turmoil.
It cites the country's rapidly-growing middle class, increased economic growth, as well as increasing urbanisation as reasons for its forecast.
China is also one of the first countries in the world to experience a post-pandemic recovery, with its domestic air travel market hitting pre-pandemic levels in recent months.
"Since 2000, China's commercial jet fleet has expanded sevenfold, and approximately 25% of all aviation growth worldwide in the last decade has come from China. Boeing forecasts this trend will continue over the next 20 years," the airframer adds.
On the services end, Boeing anticipates China to require about $1.7 trillion in commercial aviation services for the next 20 years.
It also forecast a growing appetite among Chinese carriers for new and converted freighters, as well as digital solutions.
"Long-term aviation industry growth in China is expected to drive the need for 395,000 commercial pilots, cabin crew members, and aviation technicians to fly and to maintain the country's airplane fleet," it adds.