Boeing now is recommending pilots complete flight simulator training prior to returning to the cockpits of 737 Max – a position reversal for a company that long insisted computer-based training was sufficient.
The Federal Aviation Administration (FAA) says it is reviewing Boeing's recommendation, but has not disclosed what training it will ultimately require when clearing the Max to fly.
But should the FAA mandate simulator time, airlines would face the task of running thousands of pilots through a small number of simulators, which observers have said could take many months, slowing carriers' ability to get their aircraft back in service.
Boeing says only 34 simulators are currently in existence, and US airlines have said they have only a handful.
"Boeing is recommending 737 Max simulator training in addition to computer-based training for all Max pilots prior to return to service of the 737 Max," says Boeing in a statement. "This recommendation takes into account our unstinting commitment to the safe return of service as well as changes to the airplane and test results. Final determination will be established by the regulators."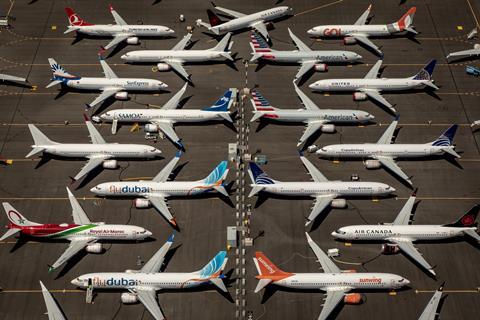 The FAA says it "will consider Boeing's recommendation for flight crew simulator training during the upcoming Joint Operations Evaluation Board" meeting, says the agency.
The Joint Operations Evaluation Board (JOEB) is composed of pilots from US and international 737 Max operators and is tasked with evaluating 737 Max pilot training. "The flight crews will be subjected to rigorous validation testing that will help the FAA and other international regulators evaluate proposed flight training and emergency procedures," says the FAA.
The JOEB will send information and data to the FAA's Flight Standardisation Board, which will make the FAA's final training recommendations.
"The FAA is following a thorough process, not a set timeline, to ensure that any design modifications to the 737 Max are integrated with appropriate training and procedures," says the FAA.
Industry insiders have speculated the FAA will lift the Max's grounding early this year.
BOEING CHANGES STANCE
In Boeing's statement, interim chief executive Greg Smith says "safety is Boeing's top priority".
"Public, customer and stakeholder confidence in the 737 Max is critically important to us and with that focus Boeing has decided to recommend Max simulator training combined with computer-based training for all pilots prior to returning the Max safely to service," Smith says.
For months Boeing, and even customers like Southwest Airlines, insisted computer-based training was sufficient for pilots transitioning from the 737NG to the Max.
A new system to the Max – the Maneuvering Characteristics Augmentation System (MCAS) – played a role in two Max crashes. But Boeing had previously asserted that pilots can address wayward MCAS activation by following established cockpit procedures.
Boeing changed its stance following a series of simulator sessions with US and domestic pilots several weeks ago, according to a source familiar with Boeing's decision who declined to be identified.
Those sessions were called to review "1302" regulations, which pertain to pilots' interactions with cockpit systems. The sessions revealed variations in how pilots performed procedures, the source says.
Michel Merluzeau with aerospace consultancy AIR, calls Boeing's simulator recommendation a "critically important decision that will go a long way rebuilding" confidence for the aircraft among pilots and travellers.
"It always has been one of the must-have items to fix on our list," Merluzeau says, adding he has been surprised Boeing did not make such a "common sense decision" sooner.
Lawmaker Peter DeFazio, chair of the House Transportation Committee and leading Boeing critic, supports Boeing recommendation but questions why the company took so long to come around.
"It's remarkable that it took two deadly crashes, numerous investigations and untold public pressure before Boeing arrived at this decision," DeFazio says in a statement. "It will be incumbent upon Boeing to ensure that the recommended simulator training is sufficient to provide all flight crews around the globe with both the proficiency and the information they need to fly the 737 Max safely."
34 SIMULATORS
Boeing says it owns eight of the 34 737 Max flight simulators in existence, with airlines owning 26.
Southwest tells FlightGlobal it has three Max simulators "in various stages of software uploads or the certification process with the FAA". Southwest, which ordered Max simulators from manufacturer CAE, expects to receive another three in late 2020. Dallas-based Southwest, which operates more 737s than any airline, has a whopping 9,100 737 pilots, according to regulatory filings.
United Airlines has one operational Max simulator and three on order, with one each of those units to be delivered in January, February and March, United says.
"We have made clear that requiring simulator training for our pilots has been under consideration at United," the carrier says. "We support the ongoing process and will continue to await the specific training requirements from the FAA."
American Airlines did not respond immediately to a request for comment, but in August 2019 it said it had one Max simulator "in the process of being installed".
CAE did not respond immediately to questions about its Max simulator production plans or capacity for building more.