Boeing expects to resume 737 Max deliveries to China from the first quarter of the year, as the airframer reiterates its confidence in the market despite looming geopolitical tensions and a weak travel recovery.
At an analyst's call following the release of its full-year results, Boeing chief Dave Calhoun says the company has "set up a plan that allows for" deliveries to resume in the first quarter.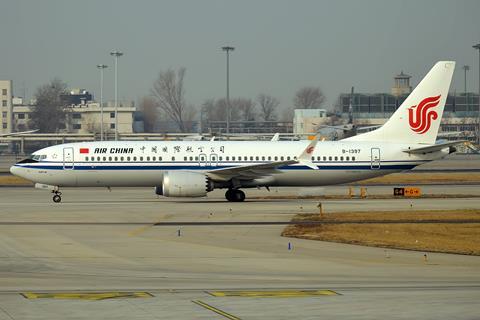 While Calhoun did not elaborate, he stressed that Chinese airline customers will take their deliveries "as the government returns the current fleet to service".
"Our customers are moving methodically and very well with respect to that return to service," Calhoun adds.
China was among the last few major jurisdictions in the world to clear the 737 Max to return to service after the type's long grounding following a pair of fatal crashes in 2018 and 2019.
Following Beijing's move to recertify the aircraft in early December, a number of Chinese carriers have begun operating readiness flights with the 737 Max, paving the way for an eventual return to service.
Chinese aviation regulators have also indicated that deliveries of the narrowbody could resume after service re-entry, which it targeted to be by early-2022. The timeline, disclosed in early December, takes into account modification work, removal from storage, as well as additional pilot training, the regulator adds.
Asked about Boeing's confidence of deliveries resuming in the first quarter of the year, Calhoun says: "[Chinese operators] are taking test flights in a very methodical, intelligent way. And they are beginning to notify us around when they intend to bring it into revenue service. That all has to happen with the airplanes they own. And then deliveries, in my view, will commence."
"There's nothing that we're involved in that would suggest otherwise…I do feel confident only because of every tea leaf I've been able to watch here," adds Calhoun.
He also sought to play down notions that geopolitical tensions between the USA and China were impacting these projections.
Says Calhoun: "I don't think this is necessarily in the geopolitical realm as much as it is in the needs of the customers and operations inside of China."
Cirium fleets data shows that Chinese operators have 208 737 Max aircraft on order, with around 75 of them stored at Washington's Grant County International Airport, and small numbers of other aircraft stored at additional locations.
Calhoun was also asked about Boeing's supply chain presence in China, and if there was risk presently, given the country's strict zero-infection strategy and rise in infections in recent months.
In response, Calhoun says the airframer "doesn't see near-term or even medium-term risks there", adding that he believes Boeing is "in an OK place there".
Boeing's supply chain in China includes a composites joint venture with Chinese conglomerate AVIC in Tianjin.
Calhoun notes that performance of the supply chain in China "has been outstanding", though he cautions: "I'm never going to say never that big disruptions can occur."