Boeing now expects the Federal Aviation Administration will certificate the 737 Max in the middle of 2020, marking another delay to the aircraft's flight approval, which some industry observers had expected would come early this year.
"We are informing our customers and suppliers that we are currently estimating that the un-grounding of the 737 Max will begin during mid-2020," Boeing says in a 21 January statement. "This estimate is informed by our experience to date with the certification process."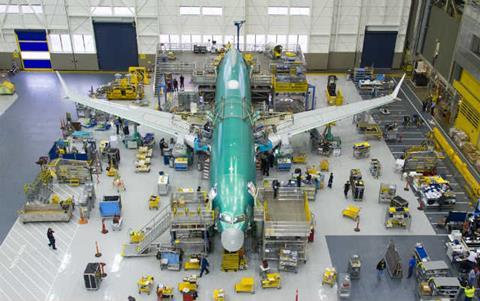 Until December 2019, Boeing had estimated regulators would clear the jet to fly before year end. But in December, FAA administrator Steve Dickson quashed Boeing's plan when he said too much work remained unfinished for a 2019 sign off.
Since then, Boeing has shied from providing a timeline. Some industry observers estimated certification would come early in 2020, perhaps in February, with a rolling reintroduction of the Max into passenger service. Now, the FAA's sign off appears likely to come several months later.
Boeing's latest projection "accounts for the rigorous scrutiny that regulatory authorities are rightly applying at every step of their review of the 737 Max's flight control system, and the Joint Operations Evaluation Board process, which determines pilot training requirements," the Chicago-based company says.
The Joint Operations Evaluation Board consists of pilots from multiple 737 Max operators and has been tasked with evaluating proper training for 737 Max pilots.
The board's work remains incomplete. When done, the FAA's Flight Standardisation Board will use the findings to develop pilot training recommendations. Those recommendations will then be subject to a public review.
The FAA says it has "set no timeframe for when the work will be completed".
"The agency is following a thorough, deliberate process to verify that all proposed modifications to the Boeing 737 Max meet the highest certification standards," the FAA says. "We continue to work with other safety regulators to review Boeing's work as the company conducts the required safety assessments and addresses all issues that arise during testing."
Boeing's announcement of a mid-year certification follows reports last week that regulators, during a final review, found problems with software that, during start-up, monitors the performance of various aircraft systems. Experts have called that issue a relatively minor problem that should not significantly delay certification.
"Returning the Max safely to service is our number one priority, and we are confident that will happen," Boeing says. "We acknowledge and regret the continued difficulties that the grounding."