Boeing has for the first time revealed the sales breakdown for its 737 Max family, with the developmental -10 closing in on the 1,000-order mark.
Although the baseline 737 Max 8 remains the most popular variant – Boeing has unfilled orders for 2,751 examples and has already delivered 965 jets – the Max 10 is the next most popular family member, with the airframer sitting on an undelivered backlog of 810 aircraft.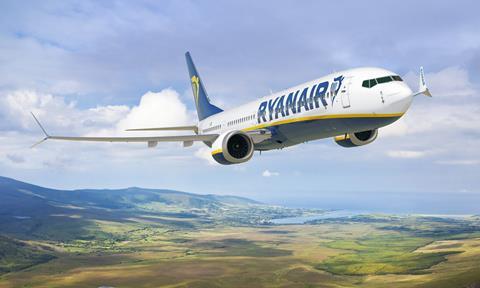 The largest aircraft in the Max family, capable of carrying up to 230 passengers, the Max 10 is the only aircraft in Boeing's narrowbody line-up capable of competing with the Airbus A321neo, particularly its long-range LR and XLR variants.
Boeing advertises the 737 Max 10 as capable of carrying 188-204 passengers in a two-class layout on routes of up to 3,100nm (5,740km), versus 180-220 for the A321XLR, which has an advertised range of 4,700nm.
Both aircraft are currently in development and are expected to enter service next year.
Meanwhile, the high-density 737 Max 8-200 has attracted 468 net orders, with 124 aircraft delivered as of 31 July. Irish budget carrier Ryanair accounts for almost 45% of the total, having placed orders for 210 examples.
Additionally, thanks to its May 2023 order for 150 737 Max 10s, plus 150 options, Ryanair also accounts for nearly 20% of that model's backlog.
Rounding out the narrowbody line-up are the 737 Max 9 – Boeing has delivered 187 units and holds unfilled orders for 137 aircraft – and the Max 7, with 297 orders. The latter jet is set to enter service next year following a recent schedule adjustment.
The total undelivered backlog for the 737 Max family at the end of July stood at 4,339 aircraft. Although Boeing lists 4,358 total unfilled orders for the 737 – including 17 P-8 Poseidon maritime patrol aircraft and a pair of -800s – accounting adjustments remove 519 aircraft, leaving a firm 737 backlog of 3,839 jets.
Boeing also details the gross orders for each variant, which show the Max 8's backlog has shed some 1,346 aircraft over time. The other Max models show smaller differences: Max 10 (108), Max 9 (96), Max 7 (28), Max 8-200 (1).
As of end-July, Airbus had taken 9,617 orders for A320neo-family aircraft and delivered 2,897 units, leaving a backlog of 6,720 jets, of which 4,150 were A321neos.

Dominic Perry is deputy editor of Flight International but also contributes extensively to flightglobal.com. Although specialising in the coverage of the helicopter industry, he has written on most topics in aerospace – be they commercial, defence or business aviation. In addition, there has been an increasing focus on the decarbonisation of the industry and zero-emission flight initiatives.
View full Profile