Boeing's 777X flight-test programme finally got underway when the first aircraft roared off Paine Field's runway on 25 January.
The flight marked a notable spot of positive news for Boeing, which has been mired for months in the 737 Max issues. Now the 777X flight-test programme is moving forward and counting down to first deliveries, which Boeing says will occur next year.
The first flight-test 777-9, designated WH001, has flown four times as of 6 January and is based at Boeing Field in Seattle, Boeing says.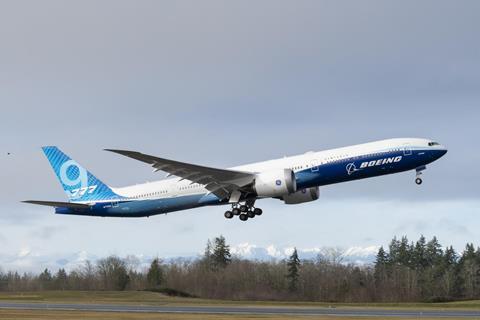 Over the next year, that aircraft's job will include testing avionics and related system, brakes, flutter, icing, stability, control and low-speed aerodynamics, Boeing says.
Three more 777-9s, all of them currently on Boeing's Everett flight line, will join the test fleet and be flying by the second quarter, Boeing says.
The second aircraft, WH002, will test auto-land, ground effects, stability and control, while WH003 will test the auxiliary power unit, avionics, flight loads and propulsion performance.
WH004 will test the environmental control system, extended twin-engine operations, noise and general functionality and reliability, Boeing says.
The Chicago-based airframer declines to provide specific details about its certification timeline, but industry experts expect flight testing will take about one year – a fairly standard duration that would put certification in January 2021.
"We're taking the lessons learned from the 737 Max and applying them to the 777X to ensure we are as prepared as possible for 777X certification," Boeing says. "Given the unknowns around development programmes, as well as the certification process, we do not want to be overly specific about hours of testing or timing."
Experts doubt the 737 Max crisis will significantly impact 777X certification, though they say it will likely spur closer review of safety analyses and pilot response assumptions – concerns raised by the two deadly Max crashes.
"I really anticipate a fairly smooth ride. A very diligent and methodical and smooth ride," Michel Merluzeau, an aerospace analyst with consultancy AIR, says of 777X certification. "The real area of focus will be the engines and flight control system".
The Max crisis stemmed from Boeing's decision to counteract the narrowbody's nose-up pitch tendency with a system that pushes the nose down. Assumptions about how pilots would respond to erroneous activation of that system also played a role, investigations concluded.
But the 777X does not have an MCAS-like system, Boeing confirms. And, regardless, its advanced fly-by-wire system could address any unexpected pitch, says Peter Lemme, an aerospace consultant and former Boeing engineer who worked on several of the manufacturer's commercial aircraft flight-test programmes.
777 DERIVATIVE
Boeing says it intends to certify the 777X as a 777 variant, not an entirely new aircraft.
That could enable the 777X to take "credit" for some validation work performed by the first-generation 777, though the extent of the 777X's updates likely mean such credit would be limited, says Lemme, who himself participated in flight tests for several Boeing commercial aircraft.
Boeing stretched the 777X's fuselage and equipped it with a new and larger composite wing. The 777-9's fuselage measures 76.7m (252ft), almost 3m longer than the 777-300ER's fuselage, which enables the 777-9 to carry about 30 more passengers.
The 777X has a 71.8m wingspan – 7m longer than the span of the 777's metallic wings. Due to concern about airport constraints, Boeing equipped the 777X's wings with folding tips, each 3.4m long, which retract upon landing.
The 777X also has new-generation engines – GE Aviation GE9X powerplants, which can throw off 105,000lb-thrust (467kN). Issues with the GE9X's stator vanes delayed the first 777X flight several months, though GE insists it fixed the problem.
Flight-test programmes typically involve a few thousand hours of flight time, with a handful of test aircraft flying several times weekly, says Lemme.
For example, the Airbus A350-900 flight-test campaign lasted 15 months and used five aircraft flying some 2,600h.
Lemme calls flight testing "opportunistic" due to unpredictable weather, and notes unforeseen issues like bird strikes or inaccurate aircraft performance assumptions can cause delays.
The first few weeks typically involve simply proving the aircraft flies as engineers anticipated, Lemme says. The team is "hyper-focused on demonstrating… that the airplane is a good airplane".
Flight-test programmes then typically move to validating engineering models and assumptions related to aerodynamics, engine performance and fuel flow. Next may come more-advanced tests involving system and engine failures, as well as performance at hot and cold temperatures and with crosswinds, tailwinds and headwinds, Lemme says.
Flight-test aircraft might carry as many as 15 or 20 people during flights, including two pilots, a test director who instructs the pilots, flight engineers and mechanics who monitor data, instrumentation engineers who monitor computers and sensors, and flight-test engineers who work with the pilots, Lemme says.
Testing will involve what Lemme calls "abuse" tests such as full-brake rejected takeoff tests and tail-strike-inducing "velocity minimum unstick" tests, which determine the minimum speed at which the aircraft will fly.
MARKET APPEAL
Boeing says the 777X, thanks to its additional passenger capacity and new wing and engines, drives down unit costs. It says the aircraft will cost 10% less to operate than previous-generation aircraft like the 777 and A350-1000.
"We believe the 777X will be very successful in the market and continue to extend the 777's operational and sales success," the company says.
The 777-9 will have 7,285nm (13,500km) range and carry up to 426 passengers in two classes, while the 777-8, development of which remains on hold, will have 8,730nm range and carry up to 384 passengers, Boeing says.
Sales have been modest. Boeing holds 309 firm orders from carriers such as All Nippon Airways, British Airways, Cathay Pacific, Lufthansa, Emirates Airline, Etihad Airways, Qatar Airways and Singapore Airlines, its figures show.
But Boeing predicts, and analysts agree, that orders will uptick in the coming years as airlines retire existing widebodies.
Boeing, of course, pitches the 777X as a replacement for 777s, of which 1,458 remain in service, according to Cirium fleets data. But it also views the 777X as a replacement for 747s, A340s and A380s, of which a combined roughly 880 remain flying, Cirium shows.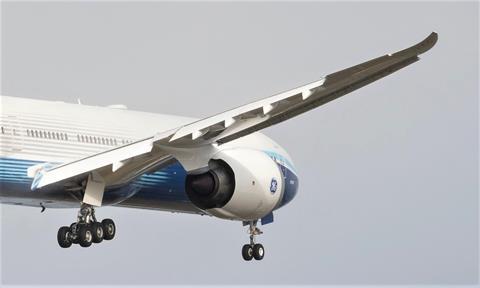 Boeing says the "replacement demand cycle" is "just beginning". Airlines could retire 60-100 older widebodies annually starting within a few years and lasting to the end of the decade, the company says.
"The 777X is uniquely positioned to capture the replacement demand and help airlines grow as it is the largest and most-efficient twin-engine airplane in the world, unmatched in every aspect of performance," Boeing says.
But, unlike in the past, the 777 no longer has its market segment cornered. Airlines can now choose from several ultra-long-haul widebody options, including the 777X, A350 and, to some degree, 787-10, analysts note.
"The 777X is facing a fragmented market," Merluzeau says. He suggests the 777X might grab around 45% of the ultimate market share, with the A350 and 787-10 taking the rest.
He suspects Boeing will produce 800 or 900 units in the next roughly 20 years. "It's going to have a nice, very strong niche, and will do very well," Merluzeau says.