Third time's a charm.
After two thwarted attempts, Boeing's flight test 777X lifted off from Paine Field on 25 January.
It is scheduled to land after a flight of several hours at Boeing Field, south of Seattle.
The take-off commences the long-awaited start of the 777X's delayed flight test programme – great news for Boeing, a company wracked in the last year by the 737 Max grounding.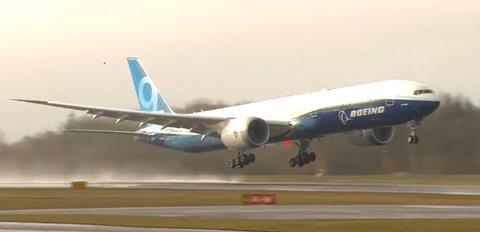 With the 777-9 airborne, the aircraft programme enters the critical flight-test phase. Boeing initially intended to begin flight testing in 2019 and to achieve certification in 2020, but an issue with the 777X's GE Aviation GE9X turbofan last year pushed flight testing into 2020.
That issue involved stator vanes in the GE9X's high-pressure compressor and resulting hotter-than-expected exhaust gas temperatures, which was causing premature degradation of components. GE recalled four GE9X engines from Boeing last year and has said it fixed the issue.
Launched by Boeing at the Dubai air show in 2013, the 777X is an upgraded version of the 777, an extremely successful fly-by-wire airliner that some analysts and former Boeing engineers say represents the pinnacle of the company's engineering might.
Boeing used then-advanced software to design the 777, in the process transforming its development processes. The 777 also ushered in an era of ultra-long-range twin-jet flights. Boeing has delivered 1,479 777s since it handed over the first of the type to United Airlines in 1995, its data shows.
The 777X builds off that success. The new variant has a 10cm (4in) wider cabin, more seating capacity, composite wings with folding tips, and 10% greater fuel efficiency, according to Boeing.
The 777-9, the first 777X variant to be developed, is 76.7m long – about 3m longer than its predecessor, the 777-300ER. The 777-9 will have 7,300nm (13,500km) range and capacity for 426 passengers in two classes, compared with the 777-300ER's 7,370nm range and 396-passenger capacity.
Boeing intends to develop a smaller 777X variant called the 777-8, but last year paused that development for an unspecified period.
Boeing says the 777-8 will be 69.8m long, carry 384 passengers and have 8,730nm range. By comparison, the predecessor 777-200 is about 6m shorter, carries 317 passengers and has 8,555nm range, Boeing's figures show.