Bombardier is discussing a potential sale of its business jet unit to Textron, according to reports, a move that if completed would catapult Textron into the large-cabin business jet segment and mark another divestiture by once-mighty Bombardier.
The Wall Street Journal reported on 4 February that the companies have been discussing such a deal, which could enable Bombardier pay off some of its massive debt.
Providence-based Textron declines to discuss the report, as does Montreal-based Bombardier.
Both companies say they do not "comment on market rumors".
Having Bombardier's business jet unit under its wing would give Textron a line of aircraft – Globals – in the large-cabin, ultra-long-range segment.
"We believe a potential acquisition of [Bombardier's aviation business] would make strategic sense for Textron as it would enable the company to gain access to the larger-cabin segment of the market with a strong family of products," says a 4 February research note from Desjardins.
The report adds that the more than 4,700 Bombardier business aircraft currently in service would give Textron a robust aftermarket business.
Textron's Wichita-based Textron Aviation unit owns Cessna, which makes a range of aircraft, from light jets and turboprops to large business jets like the flagship Citation Longitude, which can carry 12 passengers and has 3,500nm (6,480km) range.
Textron Aviation is also developing Denali, a single-engined turboprop, and a twin-turboprop utility aircraft called SkyCourier.
Textron Aviation had tried to step-up its product offering with 12-passenger, 4,500nm-range Citation Hemisphere, but engine issues forced Textron to shelve that project in 2019.
Bombardier is among the world's top producers of business jets. Its flagship line of Globals include the 5500, 6500 and 7500. The 7500 can carry 19 passengers, has 7,700nm range and top speed of Mach 0.925.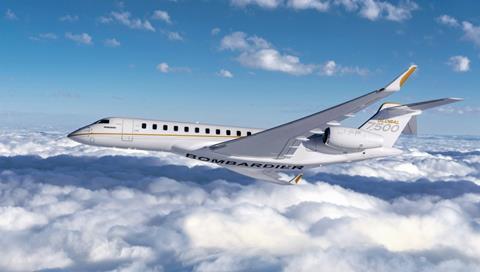 Globals compete with the likes of Gulfstream's G500, G600, G650ER and in-development G700, and with Dassault Aviation Falcons.
Bombardier also manufactures the super-midsize Challenger 350 and large-jet Challenger 650, and owns Learjet, maker of Learjet 75 light jets.
While Textron certainly sees value in Bombardier's larger aircraft, a takeover would make Learjet's future even more uncertain, says industry analyst Addison Schonland, partner at consultancy AirInsight Group
Schonland questions whether Textron might shutter Learjet, which competes against Cessna Citations and, many analysts say, has suffered in recent years from lack of attention and investment.
News of takeover talks follow Textron's announcement last year of 875 job cuts due partly to a restructuring of Textron Aviation and completion of Longitude certification.
Textron Aviation's profit slipped 21% year-on-year to $134 million in the three months ending 4 January. Textron chief executive Scott Donnelly attributed the unit's difficult quarter partly to flat pricing.
Textron anticipates Textron Aviation's revenue in the current fiscal year will be $5.4 billion, up about 4% from last fiscal year.
EXITING AVIATION
Bombardier has struggled for several years – with much of the company's financial challenges stemming from the crippling development costs of CSeries.
Bombardier handed Airbus majority ownership of that programme, now called the A220, in 2018. The Montreal company still owns 33% of the A220 programme but in January said it is reevaluating its ownership position.
The CSeries divestiture set in motion a broader exit by Bombardier from commercial aviation. It has divested the Dash 8 turboprop line and agreed to sell its CRJ programme and various aerospace manufacturing and MRO sites.
The company's executive have said the shift would enable it to focus on commercial aviation and its railcar business. Now the business aircraft unit seems to be on the table, and Bombardier has reportedly also been seeking a partner for its rail business.
Bombardier releases its 2019 financial results on 13 February.
But the company posted a $91 million net loss in the third quarter of 2019. In that period Bombardier's aviation business earned a profit before interest and taxes of $96 million, down 27% in one year, financial filings show.
Bombardier had about $9.3 billion in long term debt as of 30 September 2019, including $1.5 billion due in 2021.