Helicopter operator Bristow Group has signed an agreement to help Electra Aero develop its self-charging hybrid-electric short take-off and landing (eSTOL) aircraft, and plans to purchase 50 examples as Electra's launch customer.
The two companies say on 26 August that the memorandum of understanding (MOU) sets the stage for collaborating on "a full range of safety and operational features" so that the aircraft can be certified in North America and Europe.
Electra said earlier this year that it hopes to achieve certification from the FAA under Part 23 rules, which apply to utility and commuter aircraft, by 2026.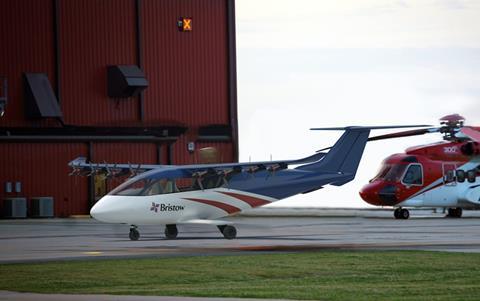 "Just as Bristow pioneered the vertical transportation market some 70+ years ago, this MOU sets the stage for early collaboration and development between Bristow and Electra for a new class of aircraft that will allow us to take advantage of the unique capabilities of electric and hybrid power generation technologies to substantially lower carbon emissions and operating costs," says Bristow's chief executive Chris Bradshaw.
Bristow, which merged with US counterpart Era Group in 2020, operates 240 aircraft for air mobility transport in the oil and gas industry, search and rescue as well as government and civil organisations.
"Bristow's deep experience operating aircraft across a variety of missions is an excellent complement to the Electra team's extensive experience in designing and building innovative aircraft," adds John Langford, Electra.aero's chief executive. "This collaboration will lead to a more rigorous aircraft capable of addressing operators' needs across a variety of use cases and will help Electra develop and certify an eSTOL aircraft in as short a period of time as possible."
Falls Church, Virginia-based Electra says its eSTOL fixed-wing aircraft can operate from runways as short as 91m (300ft) long and 31m wide using what it calls "a proprietary proven blown lift technology where eight engines provide additional wing lift, and hybrid-electric power that provides internal recharging capabilities for aircraft batteries". That makes it quieter and more environmentally friendly than a conventional aircraft.
It will be capable of transporting up to 818kg (1,800lb) of cargo or move five to seven passengers between 400nm and 500nm (720km and 900km). Electra also claims that it will have lower operating costs than any potential competitors.