Virgin Atlantic has been granted approval by the UK Civil Aviation Authority (CAA) to perform a landmark transatlantic service using a Boeing 787-9 running on 100% sustainable aviation fuel (SAF).
Covering a two-day window running from 28-29 November, the permit to fly will allow Virgin to operate the service between London Heathrow and New York JFK airports. Should Virgin be unable to fly on those dates, it would seek to amend the approval, it says.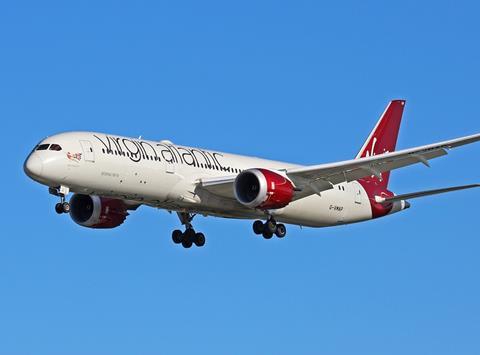 However, the CAA approval is just one of several needed: for the flight to go ahead Virgin also needs to gain similar permissions from regulators in Ireland, Canada and the USA.
Virgin says it submitted applications for the flight to the relevant authorities at the start of November, adding: "Timelines for the respective authorities differ yet Virgin Atlantic expects all to be completed within two weeks." That period will end around 17 November.
Using the flight code VS100, the service will not be permitted to carry paying passengers but can transport "a number of onboard observers on a non-commercial basis".
Virgin did not immediately clarify whether "observers" constituted solely technical staff or also encompassed airline executives or other guests.
CAA approval for the operation follows a programme of technical reviews by the regulator, which analysed different aspects of the planned flight, including the results in July of ground tests of a Rolls-Royce Trent 1000 engine running on 100% SAF.
Partly funded by the UK government, the project is led by Virgin but includes a consortium of big names including Boeing, Rolls-Royce, BP, and several research bodies. It aims to demonstrate SAF as a viable alternative to regular jet fuel.
"The Civil Aviation Authority's permit to fly Flight100 marks a key milestone and a huge achievement for all the teams working towards this historic flight. Getting to this point has been more than a year in the making and taken radical collaboration across our consortium partners and government," says Shai Weiss, Virgin chief executive.
"We're committed to using 10% SAF by 2030, but to get there we need the government to support the creation of a UK SAF industry. We know that if we can make it, we can fly it."

Dominic Perry is deputy editor of Flight International but also contributes extensively to flightglobal.com. Although specialising in the coverage of the helicopter industry, he has written on most topics in aerospace – be they commercial, defence or business aviation. In addition, there has been an increasing focus on the decarbonisation of the industry and zero-emission flight initiatives.
View full Profile