Canadian carrier Cargojet Airways' second-quarter revenue slipped 15% year on year as the freight hauler rode out "difficult" market conditions.
The Ontario-based airline generated C$210 million ($156 million) in revenue during the period ending in June, down from C$247 million during the same quarter of 2022.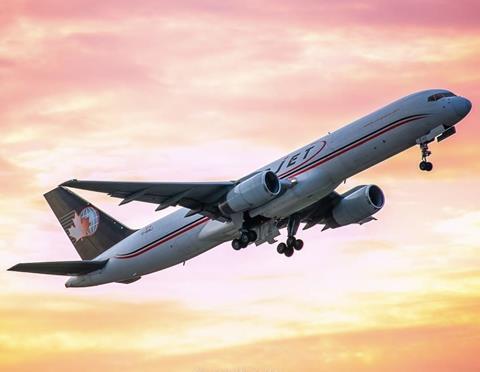 Cargojet still turned a C$31 million profit last quarter, down from the airline's C$161 million profit in the prior-year period.
The latest forecasts from airline industry association IATA and air freight data specialist Xeneta suggest the global air cargo market is heading for a potential "winter of discontent" amid plummeting shipping rates, weakening demand and jitters over a potential oversupply of freighter aircraft.
Cargojet maintains a fleet of nearly 40 Boeing 757s and 767s converted for cargo operations.
"To prepare Cargojet to ride the current economic cycle, we shifted our focus to cost management as well as right-sizing our network, while curtailing [capital expenditures] and focusing on generating free cash flow," says Ajay Virmani, Cargojet's chief executive.
"While we expect economic conditions to remain difficult, the shift in consumer spending towards travel and leisure versus goods is expected to normalise towards the end of this year," he adds.
The carrier flew about 6% fewer hours, year on year, in the second quarter. Its quarterly expenses declined 10% in one year to C$167 million in the second quarter.
Cargojet's on-time performance during the period was 99.6%, the carrier says.