The fallout from technical issues with the Pratt & Whitney PW1100G engine continues to grow in Asia-Pacific, with one aerospace supplier warning of a potential financial impact and airlines having to relook their near-term growth forecasts.
Japan-based IHI, a partner in the PW1100G programme, says it expects "an impact" on operating income for the current financial year, which ends 31 March 2024.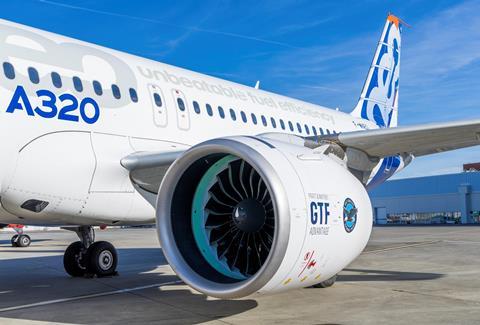 The company has a 15% share in the engine programme, with P&W holding the majority 51% share.
"At this point, it is difficult to accurately assess the impact on our forecast for the current fiscal year, so we will make another announcement as soon as the forecast becomes clear," IHI states, adding that it is "working to minimise" the impact of the engine issues.
On 11 September, RTX said that around 600-700 engines, which power the Airbus A320neo family aircraft, must be removed and inspected between now and 2026 for defective high-pressure turbine and compressor discs.
The issue, which is set to cost RTX more than $3 billion, centres on a previously disclosed defect involving a "rare condition in powdered metal used to manufacture certain engine parts".
Already several Asia-Pacific carriers, including Air New Zealand and Scoot, have warned of operational disruptions in the near-term.
On 15 September, low-cost operator Cebu Pacific, whose A320neo-family fleet is powered by PW1100G engines, says it will revise downwards its fleet growth rate for 2024, as it "anticipates that a number of the aircraft" will be impacted.
It adds that while there is no "immediate impact" on operations, there will be impact on fleet availability in 2024. To this end, it will revise downward its projection of 91 aircraft by 2024.
The carrier adds: "Cebu Pacific has already taken a focused approach to proactively manage supply chain and operational challenges facing the industry. The accelerated fleet inspection will ensure the continued safe operation of the P&W fleet."
Air New Zealand warns of "significant" adjustments to its schedules in the coming months, as it works through additional engine shop visits.
The airline has 16 PW1100G-powered A320neo and A321neo aircraft in its fleet.
Low-cost operator Scoot, meanwhile, also expects to adjust its schedules in light of the latest technical issues, which it says affects four engines in its fleet.
Other carriers in the region, such as China Airlines and All Nippon Airways, have told FlightGlobal they were still assessing the potential impact from the technical issues, and have not made any significant operational adjustments yet.