CFM International has begun manufacturing parts for its first RISE open-fan demonstrator as it ramps up component testing for the new powerplant.
Detailing progress at a pre-Paris air show briefing on 17 June, Mohamed Ali, vice-president of engineering for GE Aerospace – a partner in CFM alongside Safran – said the RISE, or Revolutionary Innovation for Sustainable Engines, was moving from a "paper engine into real parts and real tests".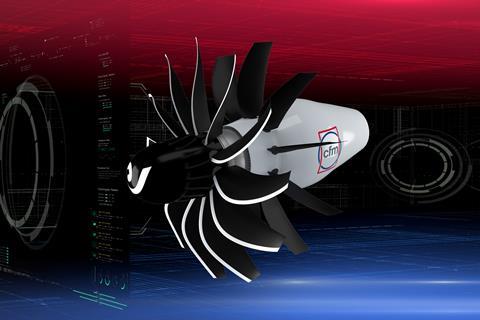 Behind its large composite fan – roughly the size of the 134in (340cm) fan on the GE9X – sits an ultra-compact core, smaller than that seen on small business jet engines, says Ali.
GE has designed, with the support of NASA, new turbine airfoils, nozzles and blades using supercomputing technology which yielded "fascinating results in terms of fuel-burn improvements, as well as durability" which were then validated through rig tests.
Components, notably the airfoils, have benefited from CFM's additive manufacturing and ceramic matrix composite capabilities. "They are already manufactured and made and as we speak today they are going through engine testing," says Ali.
Tests of the high-pressure turbine parts using a modified GE F110 military engine recently began at the company's Evendale facility in the USA.
Heat-exchangers for the powerplant have also been made through additive manufacturing. Ongoing tests of the parts are demonstrating "superior results", says Ali.
Additional evaluations of low-pressure turbine blades, including static, vibration and impact tests - are under way at Safran's Villaroche facility, says Safran vice-president of engineering Michel Brioude.
"We are getting good results from this. So it's a real test and a real part."
Windtunnel tests of a scaled model of the RISE have also been performed, he discloses. In addition, a separate campaign to evaluate the noise profile of the fan were conducted at an Airbus facility in Hamburg which "demonstrated that the noise level is lower than today's Leap," says Ali.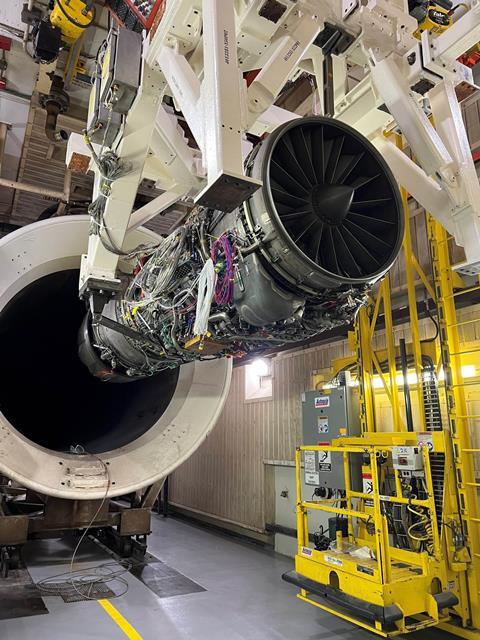 And, says Brioude, the manufacturing of parts for the demonstrator engine has started: "We have procured the raw material but now we are forging parts in our Gennevilliers plant north of Paris.
"If you go there, you may see some of our parts – it's real parts for a real engine."
Ali says the programme is on track to meet its target of ground and flight tests of the demonstrator by mid-decade.
CFM will also incorporate a hybrid-electric system into the RISE, further contributing to its 20% fuel-burn reduction goal.
A separate NASA-sponsored programme will by mid-decade carry out flight tests of that system aboard a modified Saab 340 turboprop following ground-based altitude tests in 2022. That aircraft has now been procured ahead of the planned test campaign, Ali notes.
While the RISE will be compatible with 100% sustainable aviation fuel from the beginning, CFM also intends for the powerplant to be capable of burning hydrogen as an alternative.
As a precursor, CFM will by mid-decade flight test a modified hydrogen-combusting Passport business jet engine aboard Airbus's A380 flying testbed.
Changes to the combustion and fuel system will be required, says Ali. "As a matter of fact we have been doing quite a bit of combustion testing at our research facility in upstate New York and the results are quite encouraging about the ability to burn hydrogen with a new combustor design and obtain very low emissions."
He envisages a second RISE flight-test campaign taking place "towards the end of the decade" with the engine running on hydrogen.
Launched in 2021, the 35,000lb (156kN)-thrust class RISE demonstrator programme will allow the two CFM partners to mature the technologies required for a new narrowbody engine to potentially enter service in the mid-2030s.
CFM is also working with both Airbus and Boeing to understand the integration requirements of the engine on any future aircraft design.