Singapore has seen a "significant improvement" in air travel, with passenger movements at Changi Airport more than doubling in the month following the country's full opening of its borders.
The city-state is also "well on track" to restore passenger volumes to half of pre-pandemic levels by the end of the year, says transport minister S Iswaran.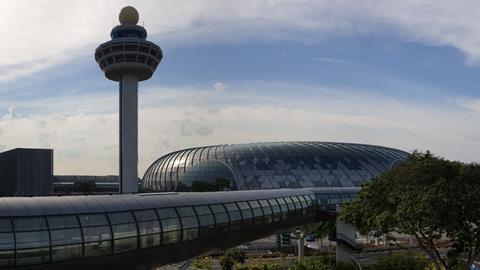 Speaking at the Changi Airline Awards ceremony on 4 May, the minister says that as of end-April, Changi Airport's passenger movements were about 40% of pre-pandemic levels, a significant increase compared to the 18% recovery reported for March.
Singapore in early April fully reopened borders, do away with arrival quotas, as well as testing requirements for all vaccinated travellers.
Beyond immediate recovery, Iswaran says it was critical Singapore's aviation hub status "thrives" in a post-pandemic world. Even though the Asia-Pacific region is expected to fully recover slower than other parts of the world, the minister says Singapore is "well positioned" to tap into growth demand.
"The strength of our air hub has always been its connectivity, and we are committed to working closely with airline partners to grow this network. We must not only preserve our previous links or restore our previous links, but go beyond to expand the network, densify schedules, and forge new partnerships with airlines, " Iswaran says.
He notes that the rapid traffic growth has not been without challenges: according to local media reports, several flights over the Labour Day weekend in early May have had to be rescheduled to avoid bunching them together during peak periods.
There have also been concerns that passenger volume could outstrip ground handling capability.
Acknowledging these challenges, Iswaran says: "I know the ramp up has and continues to pose significant challenges given the speed, and also the scale and complexity of operations at a global air hub like Changi. I also know our aviation partners are doing their level best and going to extraordinary lengths to get the job done. You have the government's full support."