The Civil Aviation Administration of China (CAAC) has eased some of its penalties for international flights found to carry passengers testing positive for the coronavirus.
From May, airlines found to carry five or fewer passengers testing positive will now be able to choose between two types of restrictions: frequency-based, or load factor-based.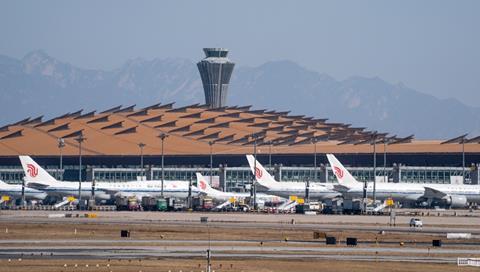 For frequency-based penalties, the airline will have to suspend operating into China for two weeks. As for load factor restrictions, the airline will only be allowed to operate at no higher than 40% passenger load factor for a period of four weeks.
The CAAC adds that if an airline chooses load factor restrictions, and continues to carry coronavirus-positive passengers on subsequent flights, it will revert to frequency-based penalties with immediate effect.
The choice of restrictions, which begins four weeks from the date of the affected flight, will not apply for airlines found to carry a larger number of passengers with the coronavirus.
The CAAC states that if a flight is found to have more than five but fewer than 10 passengers testing positive, the airline has to suspend operations for four weeks. The restriction will kick in on the fourth week from the date of the affected flight.
If the total number of positive cases on two consecutive flights hits 10, the CAAC will order the airline to suspend operations into the country for eight weeks.
If the number of confirmed cases on a flight hits 30, the airline will be ordered to suspend operations for four weeks immediately.
In recent weeks, China has issued a number of "circuit breaker" penalties against several airlines, both domestic and foreign, for carrying passengers who tested positive for the coronavirus.
Underpinning the move, viewed as onerous by some, is the need to protect the country from an influx of coronavirus cases. China, where the first cases were discovered, has claimed control over the pandemic, after being the worst hit at the start of 2020.