China has again tweaked penalties for international flights found to carry passengers testing positive for the coronavirus.
Under adjusted "circuit breaker" rules, if the proportion of passengers on an inbound flight testing positive hits 4% of the total number of passengers, the airline faces a one-week operational suspension.
If the proportion reaches 8% of total passengers, the airline faces a two-week ban, says the Civil Aviation Administration of China (CAAC).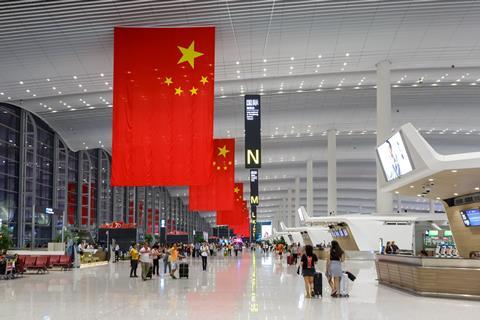 The agency adds that the adjusted penalties have been in force since 7 August.
Previously, airlines were penalised based on the absolute number of passengers testing positive. Airlines also faced longer suspension periods, which could extend to as long as eight weeks.
China has one of the world's strictest entry restrictions, and is one of the last major economies yet to reopen its borders. The country is doggedly pursuing a 'zero-Covid' strategy, one which has reduced international travel demand to record lows.
The "circuit breaker" mechanism has been criticised by the international airline sector for the uncertainty it brings to flight scheduling and operations.
However, the CAAC appears to give no indication that it will do away with it soon. The agency's latest statement says: "Relevant policies will be adjusted in due course according to the epidemic situation and prevention and control requirements."
Separately, Hong Kong authorities have cut the length of quarantine for inbound travellers to three days. This will be followed by four days of "self-monitoring" where travellers can leave their homes or hotel rooms to move around the city.
It is the latest step in what could be a long-drawn reopening process for the city, which had pursued a zero-infection strategy like the mainland.
Story updated with information about Hong Kong measures.