China's aviation regulators expect the Boeing 737 Max to resume operations in the country around the end of the year, or early 2022, with deliveries to follow soon after.
At a monthly press conference on 3 December, Civil Aviation Administration of China (CAAC) officials say the timeline takes into account modification work, removal from storage, as well as additional pilot training.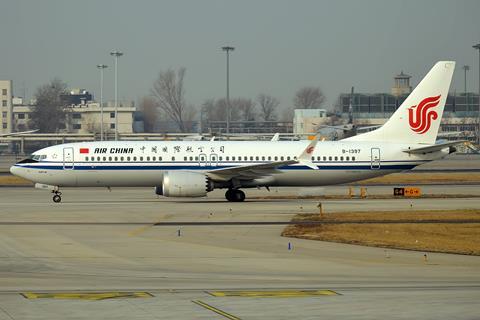 The disclosure comes a day after CAAC issued an airworthiness directive that essentially clears the way for the 737 Max to return to flight operations.
The directive, dated 2 December, states: "CAAC completed review of the actions proposed by Boeing, including flight control software design change, [737 Max] display software design change, aircraft flight manual revision, horizontal stabiliser trim wire bundle routing change, [and so on]. After conducting sufficient assessment, CAAC considers the corrective actions are adequate to address this unsafe condition."
According to Cirium fleets data, about 94 jets operated by 11 carriers in China, including Xiamen Airlines, Air China, China Southern Airlines, Hainan Airlines and Shanghai Airlines, among others, are in storage. Boeing, which holds significant orders among Chinese carriers, had previously indicated that deliveries could resume in the first quarter of 2022.
China was the first country in the world to ground the type after two fatal crashes in 2018 and 2019. Up until December, it was the last remaining major economy to lift the operational ban. The USA and Brazil were the first countries around the world to do so in late-2020, while Australia was the first Asia-Pacific country to lift the grounding this year.
Industry watchers have noted that China's reticence in certifying the 737 Max reflect broader geo-political tensions between China and the USA. Furthermore, China is developing its own narrowbody programme — the Comac C919 — which it hopes will rival Airbus and Boeing.
Asked if the 737 Max had any effect on C919 service entry, CAAC director of aircraft airworthiness and certification Yang Zhenmei points out that the two issues were "independent" of each other.
Stressing that the CAAC "places great importance in C919 certification work", Yang would only say that the agency is "working closely" with Comac on airworthiness reviews of the C919, before it can certified and entered into service.
She, however, did not commit to a service entry timeline for the C919.