Beijing has eased the final part of its coronavirus travel restrictions, re-allowing visas to be issued and expanding the list of countries for outbound tour groups.
In an update to its travel policies, China's foreign ministry says it will resume issuing tourist and other visitor visas from 15 March. Visas issued before 28 March 2020 will remain valid to allow entry into China, the ministry adds.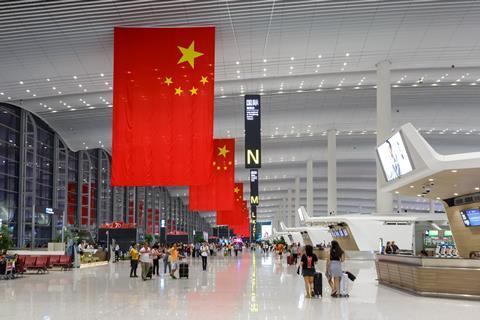 The updated policy will also allow the resumption of visa-free travel for those arriving in cruise ships at Shanghai, as well as for certain tourist groups from Hong Kong, Macau and Southeast Asian countries.
The news comes days after China's culture and tourism ministry lifted group travel bans to 40 more countries, including to Brunei, Nepal, Spain, France and Brazil. This is on top an existing list of 20 countries – part of a pilot programme that began a few months ago – where outbound group tours are permitted.
In comments made following the easing of group travel bans, Chinese foreign ministry spokesperson Wang Wenbin says: "As the Covid-19 situation in China has remained steady for a while, the Chinese public has a stronger demand for outbound tours, and many countries welcome Chinese tourists with arms wide open, China has decided to revive outbound group tours to more countries from March 15 and create more favourable conditions for outbound travel."
Wang, who was speaking at a press briefing, says international flights into the country has seen "a steady rise" in international travellers since Beijing eased most of its 'zero-Covid' policies at the start of the year.
"In light of the evolving Covid-19 situation, China will continue to better facilitate the safe and orderly cross-border travel of Chinese and foreign nationals based on scientific assessment. We hope other parties will do the same and make cross-border exchange much easier," says Wang, in a veiled swipe at countries that had previously imposed restrictions on travellers on China after the sudden easing of measures.
These countries, which include Australia, the USA and Japan, were noticeably excluded from the list.
The latest developments come as airlines – especially in Asia – ramp up their operations to return to Mainland China, albeit at a pace slower than anticipated.