China's civil aviation authorities have reiterated comments made a month ago that there was "no set timetable" to lift the grounding of Boeing 737 Max.
In comments reported by state broadcaster CCTV on 19 November, the Civil Aviation Administration of China (CAAC) restated three key rules it laid out in October for the troubled narrowbody's return to service.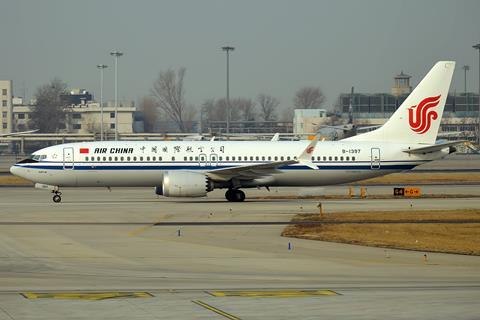 These were that the design changes to the aircraft were approved, safe and reliable; that pilots were fully trained; as well as that there was a clear outcome from investigations into the two tragic accidents that prompted its worldwide grounding.
In October, CAAC chief Feng Zhenglin told reporters that as long as the 737 Max met these criteria, China would be "happy" to lift its grounding.
China was the first in the world to ground the aircraft, following two accidents that killed 346 people. The second crash on an Ethiopian Airlines flight in March 2019 occurred five months after the first crash of a Max operated by Lion Air.
Cirium fleets data indicates Chinese carriers have 97 737 Max aircraft in storage, and more than 200 on order. China is also one of Boeing's fastest growing markets, with the airframer estimating Chinese carriers to require 8,600 new aircraft — at a pricetag of over $1.4 trillion — over the next 20 years.
The CAAC's comments come as the US Federal Aviation Administration (FAA) cleared the 737 Max to fly again, some 20 months after it was grounded.
Elsewhere in Asia, civil aviation regulators have largely been silent about lifting the ban on the aircraft. Indonesia and India, two other countries which have carriers operating a significant number of 737 Max aircraft, have not publicly indicated whether they would follow in the FAA's footsteps.