Airlines in Asia have scrambled to reroute or cancel flights, amid warnings to avoid Taiwanese airspace as China kicks off a series of live-fire drills in response to a top US official's visit to the island.
A notice from the People's Liberation Army outlining the six locations where drills will take place has warned aircraft and ships to avoid the area between 12:00 local time on 4 August and 12:00 on 7 August.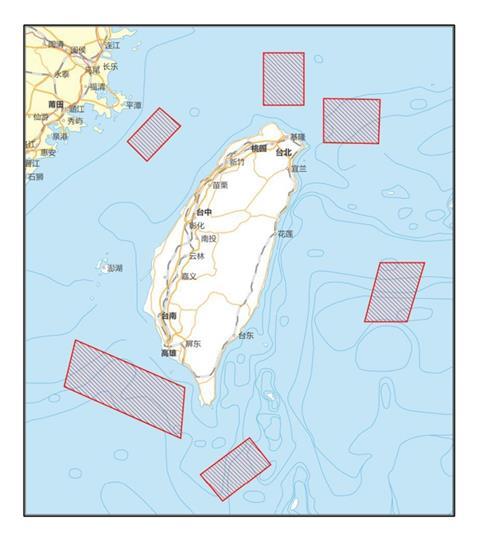 "For safety reasons, relevant ships and aircraft should not enter the sea areas and airspaces during this period," the Chinese-language notice states.
The drills will take place around Taiwan, effectively blockading it, and posing issues for air traffic management.
The drills are in response to a visit by US House Speaker Nancy Pelosi to Taiwan on 3 August, a move which has led Beijing to issue a string of strongly-worded threats, as well as impose punitive trade sanctions on the self-governed island, which it regards as a breakaway province under its sovereignty.
A separate notice to airmen from China states that aircraft flying to Japan or South Korea over its eastern airspace "shall keep 30min separation, regardless of altitude". The notice applies from midnight local time on 4 August to 08:00 local time on 7 August, corresponding to the period of the drills.
Civil aviation regulators in Singapore, Vietnam and Thailand have since urged their carriers to avoid the airspace around Taiwan during the period specified in China's notice.
Taiwanese media reports, citing transportation ministry officials, indicate that Taiwan is working with Japan and the Philippines about alternative air traffic routes.
CANCELLATIONS AND DELAYS
A check on flight tracking site FlightRadar24 after 12:00 on 4 August shows notably less flying activity over Taiwanese airspace.The airspace disruption is more profoundly felt for flights between North Asia towards Southeast Asia, which would typically require overflying Taiwan. Vietnamese carriers, in particular, have had to take a longer flight path on operations to Japan and South Korea.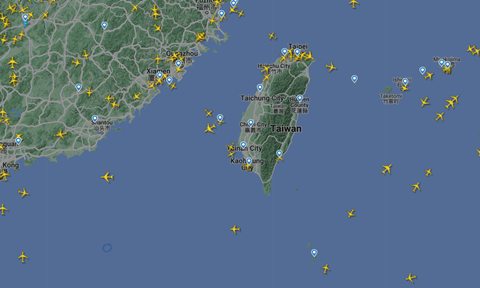 For instance, a Vietnam Airlines flight from Tokyo Narita to Ho Chi Minh City typically flies over the southern end of Taiwan, but a check on 4 August shows a more circuitous diversion, where the aircraft flies further east of Taiwan, heading south and turning west near the Philippines.
In another example, an All Nippon Airways (ANA) charter flight from Tokyo Narita to Taipei Taoyuan had to fly towards the south of the island before heading back north towards Taipei, adding about 45min to its flying time.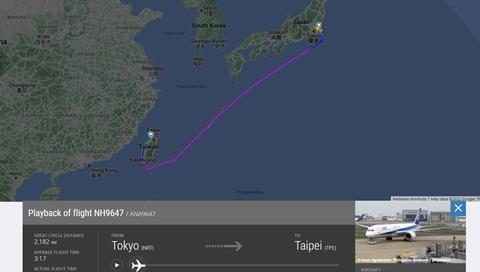 A Japan Airlines Boeing 787-8 that took off from Taipei Taoyuan around 12:24 local time is also seen turning towards the Taiwanese east coast before heading south for its flight back to Tokyo, a route that usually sees the aircraft head north-east to Tokyo.
The flights appear to be avoiding two big exercise boxes that China has outlined directly north and northeast of Taiwan.
Indeed, airlines in Asia have warned of delays and longer flying times resulting from China's military drills and the airspace disruptions.
South Korea's Asiana Airlines on 4 August retimed its sole flight from Seoul Incheon to Taipei Taoyuan, bringing forward the departure time from 10:00 local time to around 7:00 local time, purportedly to avoid the commencement of live-fire drills.
Others, like ANA, have cancelled flights between Tokyo Haneda and Taipei Songshan.
In China, airports located in Fujian province – nearest to Taiwan – have also cancelled a number of domestic flights on 4 August. These include Xiamen and Fuzhou airports, both of which are hub airports for Xiamen Airlines.
The carrier on 2 August said it would be readjusting the timings of several flights, citing what it calls "flow control" in Fujian province.