Chinese authorities have scrapped its 'circuit breaker' penalty mechanism for airlines found to be carrying passengers who test positive for the coronavirus.
The move is part of a wider revision of pandemic management measures announced by China's central pandemic prevention committee and widely seen as a significant step towards the country's eventual reopening.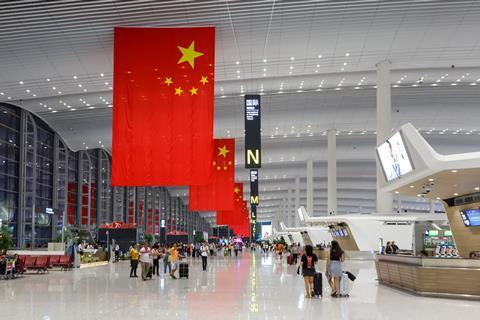 Under the 'circuit breaker' mechanism, airlines faced temporary suspension if they were found to carry a number of passengers with Covid-19. Beijing had tweaked the scheme a number of times since introducing it in 2020, including reducing the length of suspension.
The mechanism has been unpopular with airlines, adding uncertainty to network planning to China.
Other travel-related measures that China is adjusting include quarantine time and testing requirements for international arrivals.
Arriving passengers will only need to quarantine for five days at a designated facility and another three days self-isolating at home. Pre-departure testing will remain, though travellers will only need to do one PCR test 48 hours before departure, instead of two.
Despite broad adjustments in restrictions, China has signalled its intentions to keep its zero-infection policy, even as infections climb in the country. The country reported more than 10,000 new cases on 10 November.
Beijing has yet to significantly expand the number of international flights allowed into the country.
In late-October, China doubled the number of flights allowed into the country - to 420 flights weekly - in the Northern Winter schedule. The figure is still a small fraction of pre-pandemic international flights.
In comments following China's announcement, IATA's regional vice president for North Asia Xie Xingquan says the suspension of the 'circuit breaker' mechanism is welcomed, noting that "airlines were being penalised for something outside of their control".
Still, he believes more can be done: "Most of the world reopened to travel last year. We saw the rest of Asia move towards reopening from around April this year. China continues to be a step behind in the recovery, remaining largely closed to international travel."
Xie adds: "We hope the Chinese government will have the confidence to re-open its borders soon, remove the quarantine for arrivals and the need for Covid-19 testing, and reconnect with the world."