Dutch researchers believe that an increase in long-distance cargo flights, combined with steeper reductions in short-haul passenger services than for long-haul operations, are responsible for carbon dioxide (CO2) emissions failing to fall in line with the overall drop in flights.
Analysts from the Royal Netherlands Aerospace Centre (NLR) looked at movements to and from Schiphol airport from March to September 2020. They found that although total flights dropped by 67% against the same period a year earlier, CO2 emissions fell by only 55%.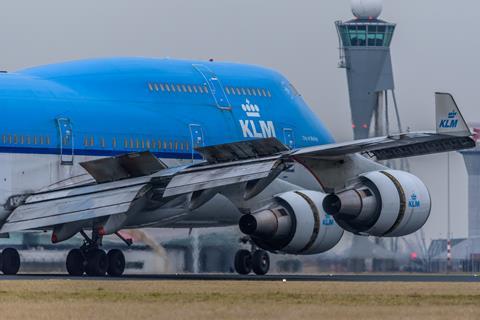 That differential was widest in May and June: although 85% fewer flights were recorded, CO2 emissions dropped by just 64% - a 21 percentage point difference; during the July-September period, that gap narrowed to less than five percentage points, the research shows.
The NLR thinks that the increase in overall freighter flights from Schiphol, up by 8% year on year, is partly responsible for the discrepancy.
With cargo operations typically serving longer routes – burning more fuel – CO2 emissions were pushed up by 11% year on year.
But if Dutch carrier KLM's use of its Boeing 747-400 Combi aircraft solely for cargo operations from April onwards is factored in, the number of cargo flights effectively increased by 14% compared with 2019, contributing to a 24%, rather than 11%, rise in CO2 emissions.
"On top of that, there is actually also a contribution from extra flights where cargo was transported in the cabins of passenger aircraft," says Bram Peerlings, who was involved in the study.
In addition, the NLR says that short-haul travel was hit more severely than long-haul. Overall passenger flights dropped by 69%, but corresponding CO2 emissions fell by only 63%.
While travel between Amsterdam and destinations like Egypt, Israel, Morocco and Turkey reduced significantly, flight levels to and from intercontinental destinations further away, such as South Korea and Taiwan, remained constant or even slightly increased, says the NLR.
"Again, this increases the average distance per flight, causing a corresponding increase in fuel consumption and CO2 emissions."
However, the NLR acknowledges that due to a lack of precise useage data, it has counted freight-in-cabin flights as passenger operations.
While this does not affect the overall figures, the relative impact of cargo or long-haul passenger flights changes depending on how those freight-in-cabin services are categorised.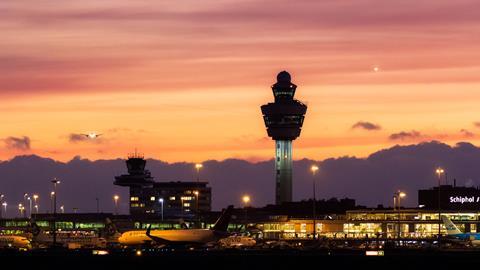 And although total CO2 emissions fell, lower passenger loads ensured that emissions per person were pushed up.
Statistics show that occupancy on flights to and from the Netherlands' five largest airports approximately halved over the March-May period, meaning that emissions per passenger kilometre "have almost doubled".
IATA figure suggest a slightly lower reduction in passenger occupancy across the whole of Europe – down 40% from March to May and down 30% from March to August.
"It is plausible that this trend also applies to the Netherlands," says Peerlings. "That means that emissions per passenger have fallen somewhat again compared to earlier this year. Nevertheless, the fuel consumption per person is significantly higher than before the crisis," he says.
However, the NLR believes that the accelerated introduction of new-generation aircraft – which burn less fuel – due to the coronavirus crisis, will have a positive impact on CO2 levels, its modelling suggests.
"If we were to simulate all flights again in the period March to September 2019, but in a situation where the oldest aircraft have been replaced by a newer generation, this would save more than 4% in CO2 emissions."
In its analysis, older aircraft include the Airbus A300, A310, A340 and Boeing 737 Classic, 747, 757, and 767, with newer models comprising the A330, 737NG, 777, 787.
That percentage would increase further if the latest generation of aircraft were introduced, it adds.
Story edited to clarify figures in sixth paragraph