Chinese airframer Comac hopes to raise its profile among potential airline customers, as it makes its first international appearance since the Covid-19 pandemic at this year's Paris air show.
The Shanghai-based airframer has on display models of its ARJ21 regional jet as well as its C919 narrowbody. An accompanying display panel highlights details of the in-development long-range widebody aircraft, the CR929, which Comac is working on with Russian airframer United Aircraft.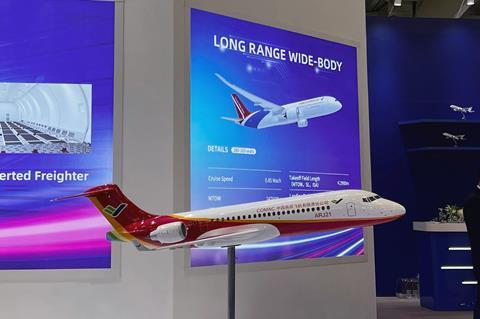 Comac says it intends to "undertake targeted market promotion activities… and forge connections with potential customers", in a statement issued at the show.
Comac's presence at the show comes less than a month after its C919 narrowbody made its commercial debut with launch customer China Eastern Airlines. The programme, which had been beset by delays for years, was certificated by Chinese regulators in 2022.
The airframer has commitments for more than 1,000 C919s, and 775 ARJ21s.
More than 100 ARJ21s are in service, including with the country's three largest operators Air China, China Eastern and China Southern Airlines, as well as Indonesian operator TransNusa Airlines.
Comac launched its ARJ21 freighter conversion programme in January after clinching certification, and has two customers for the type: YTO Cargo Airlines and Zhongyuan Airlines.