Copenhagen airport's operator is allocating two of its three runways to aircraft parking while the coronavirus crisis persists, as airlines seek to ground large proportions of their fleet.
The operator says it expects a "high double-digit" number of aircraft to be parked at the Danish capital hub "before long", and that the parking issue is a "pressing challenge".
It will maintain flight access by keeping a single runway, 22L/04R, in operation for departures and arrivals.
Scandinavian carrier SAS is among the primary users of the airport, but the airline – like many others – is effectively shutting down in response to the coronavirus situation.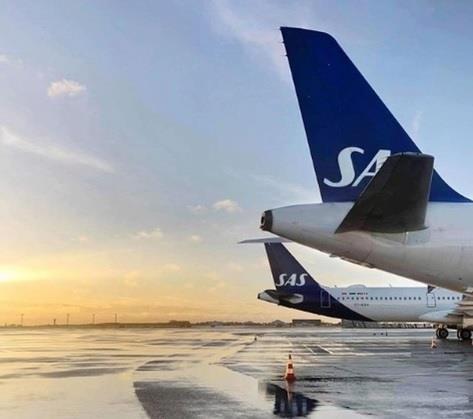 Over the first 10 days of March the impact of the outbreak resulted in Copenhagen passenger numbers falling by nearly a third, the airport operator states, and the drop has increased to 70%.
"This is something we've never seen before," says chief executive Thomas Woldbye "The situation is developing much faster and more dramatically than what happened during the financial crisis, after 9/11, the ash cloud and any other event that has impacted on aviation since the Second World War."
The airport company's share price, which had been largely flat for more than two years, started wavering at the end of January and has since fallen by close to 30%.
Investments are being put on hold and the company expects to save DKr400-700 million over the remainder of this year in capital expenditure, plus a further DKr250-350 million in operating costs.
The company is also looking to further savings from a government wage compensation scheme. It expects to put more than 1,500 of its 2,600 personnel on temporary leave. Some of the airport's 91 shops and 46 restaurants have agreed to remain open, mainly in Pier C, to where arriving passengers are being directed under border-control measures.
Development projects to be postponed include parts of the airside expansion of Terminal 3, as well as a number of other upgrades to infrastructure – among them climate schemes such as solar panel installation.
"All safety-related investments will be exempt from the cost-cutting programme," the operator stresses.
Uncertainty over the extent and duration of the crisis means the airport operator cannot provide a realistic forecast of the financial impact on its business.
"We have an important responsibility to keep the airport running and making sure that critical flight operations, such as freight, can continue," says Woldbye.
"Our main priority is to make sure that the initiatives we're launching now will not have a long-term negative impact on our ability to return quickly to normal operations when we have to."